| | | |
| --- | --- | --- |
| Home Security Product | Xfinity | ADT |
| Upfront Cost\Monthly Monitoring Cost | No upfront cost. $29.99 per month (1st year), $39.99/month – within the 2d year. | From $27.99 to $58 per month. |
| Equipment/Devices/Features | 8 | 9 |
| Easy to Use/Control (App) | 9 | 9 |
| Money-Back Guarantee | 30-day money-back guarantee | 6-month money-back guarantee |
| Installation | Requires professional installation only | Requires professional installation only |
| Customer Service | 7.5 | 9.5 |
| Overall Score | 8.2 | 9.2 |
Everyone will agree with the statement that safety comes first. Every person wants to come back home and notice: everything is in order in the house, and all the valuable things are in their places. Home security systems can protect not only your private buildings but also save the life of your closed ones. There are many great functions that will make it easier to have everything under control. Due to the increasing demand for high-quality protection systems, companies offer new effective solutions. Among them are hi-tech systems like Xfinity and ADT. Want to know which one will serve you best? Just scroll down to check the detailed Xfinity vs. ADT comparison and learn all the wonderful peculiarities each of the systems has.
Both Xfinity and ADT are known as premium-quality systems that provide security at all levels. ADT is a professional company that has been producing protection systems for years. Xfinity is a younger company that has already won the popularity among smart homeowners. Xfinity and ADT have many similar features, explaining why they fall into one category of the best systems available in the market. Top-quality hardware and good monitoring options are what you are guaranteed to enjoy, whether you choose ADT or Xfinity. Сompare security companies – have a closer look at the key features of each home protection system to make a well-informed buying decision.

Similarities: Xfinity And ADT
It's easy to guess why such giants like ADT and Xfinity systems have certain similar characteristics. ADT and Xfinity systems are produced by trusted companies. ADT and Xfinity security systems offer one of the most necessary functions every homeowner will be happy with – round-the-clock monitoring. All the processes are automated, which makes it easy to use any of these systems. It's the first similarity you'll immediately notice. The next one is the need to install ADT and Xfinity with professional help. You can't use kits that allow the installation of any of these systems on your own. As for the equipment of the systems, it is of equally great quality. Both ADT and Xfinity offer customers to conclude contracts for the use of the systems that should last not less than for a couple of years.
Differences: Xfinity vs. ADT
Let's continue our ADT vs. Xfinity review with the features that make these home security protection systems different. It's easier to make the right decision knowing all the advantages of each of the systems. Xfinity vs. ADT review of the main differences will help you to make the best choice. The very first thing making many customers choose Xfinity is the price. Xfinity is a bit cheaper than ADT. The cost is a very important factor, playing a significant role when making a decision. It's among the first criteria on the list. The next difference refers to the monitoring system. If you are in search of a larger variety of monitoring options, then here the choice is obvious. ADT company has more options compared to Xfinity, which makes it possible to monitor the situation at home via the Internet only. Do you have a smart house with various automation systems? Then, it's worth considering getting Xfinity. Its producer has taken care of the possibility of connecting different systems to the Xfinity home security system.
Company 1: Xfinity
Xfinity company has a rich history and is known for its high annual revenue. It offers superb modern solutions for smart homeowners. Every year, more and more people purchase their home security services. Is it just perfect for you individually, or you need to look further? Find out this by looking through the main advantages and disadvantages, which can be found everywhere, and home security system isn't an exception.
Xfinity Pros
A wow possibility to have control over everything taking place at home round-the-clock. Professional monitoring is what you'll enjoy when choosing Xfinity.
A presence of a user-friendly app to control the Xfinity protection system. It's enough to use your smartphone to control all the functions with ease.
A lot of new exclusive functions and smart devices, making it easier to protect your house.
Full automatization of all the options for super easy control.
A possibility to connect smart home systems you have already been using as Xfinity supports different systems made by third-party producers.
Xfinity Cons
The feature that can be considered a con here is the presence of an Internet connection only. It's a WiFi system that doesn't have a landline emergency connection that is present in ADT.
Company 2: ADT
ADT is the name that is associated with high-quality home protection. It's the trusted producer of home security protection solutions you can rely on without any hesitation. Check what exclusive pros it has prepared for you and make sure that there are no cons that may prevent you from buying the system.
ADT is a top-rated home security system that has the best quality equipment that can help you prevent the intrusion from any private building. ADT has been improving their devices for years, that means that you'll be happy with all the options.
ADT Pros
Best-quality equipment that performs all the necessary functions for home protection;
Effective customer support that will come to the rescue round-the-clock and give answers to all your questions;
More than one emergency connection for you to feel protected;
A possibility to monitor the house in the non-stop regimen 365 days a year;
A presence of sensors that can detect your pet;
A customer-friendly app that makes it possible to control everything that is going on in the house in several clicks.
6-month money-back guarantee.
ADT Cons
Some customers admit that they would love everything about one of the best-rated home security systems ADT if its cost had been a bit lower. The company offers top-quality security solutions, but some find them expensive. However, ADT monthly cost is worth the features you pay for. The absence of DIY installation is also considered a con by some users.
ADT vs. Xfinity: Features
Paying an affordable Xfinity monthly cost, you get access to security cameras (both indoor and outdoor are present here). The system includes the basic set that consists of the alarm systems for home, the detector of smoke and motion. The user can arm and disarm the system by using a special keypad. What will you get if you purchase ADT – the best self-monitored home security system? The standard package here includes a lot of helpful sensors that detect the motion of people and pets, smoke, various controllers, and cameras to provide the full safety and security for the homeowners. If to compare ADT and Xfinity in terms of the quality of the equipment they offer, then, the leading one is ADT. It's due to the fact that they cooperate with the world-famous producers that occupy the best leading positions in the market at the moment. Generic Electric is one of them.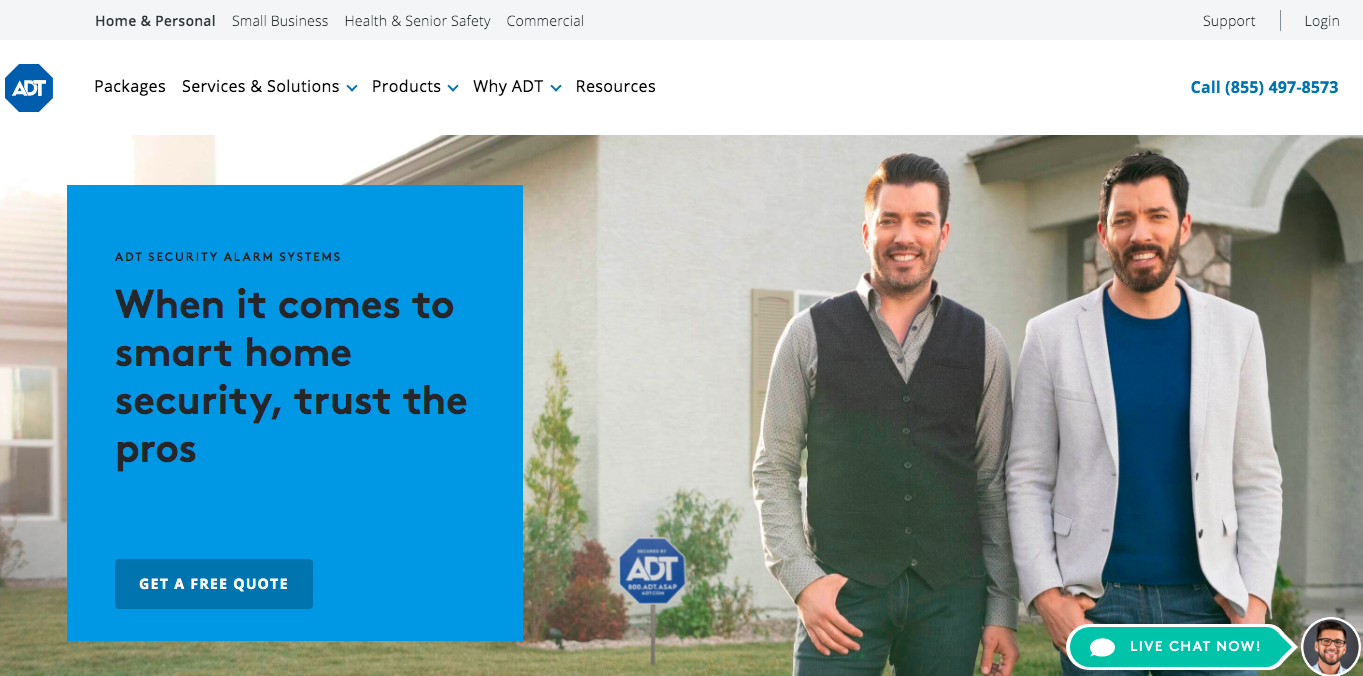 Contracts: Xfinity And ADT
What about Xfinity vs. ADT cost? Whether you choose ADT or Xfinity, you'll need to conclude a contract for at least 2 years. According to our home security cost comparison, it's the required minimum for both systems. If you don't mind to conclude a contract for the longer term, you can pay for ADT services for the following three years. If something happens within half a year, you'll be able to request money back if buying ADT. The company offers the money-back guarantee for the recording period that is 6 months. As for the Xfinity, there is also a money-back guarantee – it's valid for one month only. It's up to you to make a choice, but ADT is the winner in this category. Choosing ADT, you should be prepared more – up to 60$ monthly, while Xfinity services will cost you $29.99 monthly within the 1st year of the contract and $39.99 within the 2d year of Xfinity use.
Installation: ADT vs Xfinity
If you want to get one of the best home security systems ADT or Xfinity, keep in mind that you need to pay an extra fee for the installation. The possibility to connect the system on your own is absent here. Both ADT and Xfinity require professional installation only. This means that you need to talk with the specialist and agree when you can have the system installed. Some customers find it not very convenient as it takes additional time and money. It is really like this, but there is an advantage of the professional installation as well. You'll have no doubts that the home protection system has been installed the right way and will function without any errors. If you have any questions on how to use the system, be sure to ask the technician how the system works. The expert will help to learn the system peculiarities and guarantee 100% flawless work of all the high technological devices.
Emergency Connections: Xfinity vs. ADT
Emergency connections are not the least feature you need to pay attention to when choosing a home security system. Xfinity system is good for those who have a high-quality Internet connection that never fails. The company offers to monitor the house round-the-clock via the internet. Do you have a weak internet connection and worry that it may fail exactly when you need to check what is going on at home? Some of the packages include top-quality connections to satisfy your personal wants and needs.
As has been said in the very beginning, ADT home security producer offers more valuable options. Besides the possibility to connect via Wi-Fi, there is a reliable landline connection. This type of connection makes ADT more preferable for some homeowners as it differs with reliability and speed. Paying an extra fee, you can enjoy a great offer – it's a hardwired landline system that can be bought at an affordable price.
Conclusion: Xfinity Or ADT?
It isn't as easy as ABC to make the choice of the product today as there are many good deals in the market. It becomes even more difficult to make the decision when it comes to the services in which quality may influence your home security. Xfinity vs. ADT lawsuit proves that companies are competitors on the market. However, whether you buy Xfinity or ADT, you can be sure that your house and everyone living there is well-protected by the top-quality security technologies used by the giants ADT and Xfinity. Each one has its marvelous peculiarities. Compare Xfinity and ADT in terms of your personal wants and needs to get the best one that will meet your expectations. Check the home security comparison chart to know how customers rate Xfinity and ADT and which one they find more user-friendly and advanced.
ADT is the first company that has made the greatest revolution in the home security market. Those who are looking for the guaranteed result offered by a trustworthy company with reliable emergency connections are recommended to consider getting ADT. If you are in search of innovative wow home security solutions with the possibility to connect third-party devices easily, then, pay attention to the Xfinity security system, which is the winner in the price comparison category as well. Both of them will change your life for the better as they have been designed by powerful companies that know everything about house protection and have achieved tremendous success in providing protection to homeowners.