Protect America Review: Overall Score
Price
You'll find out the base price upon signing the contract with Protect America security company. The monthly fee starts at $19.99 and goes up, depending on the additional equipment for sale you order.
There's a 36-month standard contract that benefits you in a great locked payment.
Equipment/Devices
Protect America offers a large variety of Z-Wave devices, smart door locks, indoor camera type devices, doorbell camera type devices, as well as pulse cameras and smoke detectors.  Every plan can be customized by adding more equipment options.
Customer Service
Protect America offers premium customer service due to its main goal, which is providing the best low-cost home alarms. You can contact them by phone, email, and social media accounts. There's also a possibility of getting a free quote from Protect America. This is a good welcoming gift to those who are interested in a high-quality wireless security system.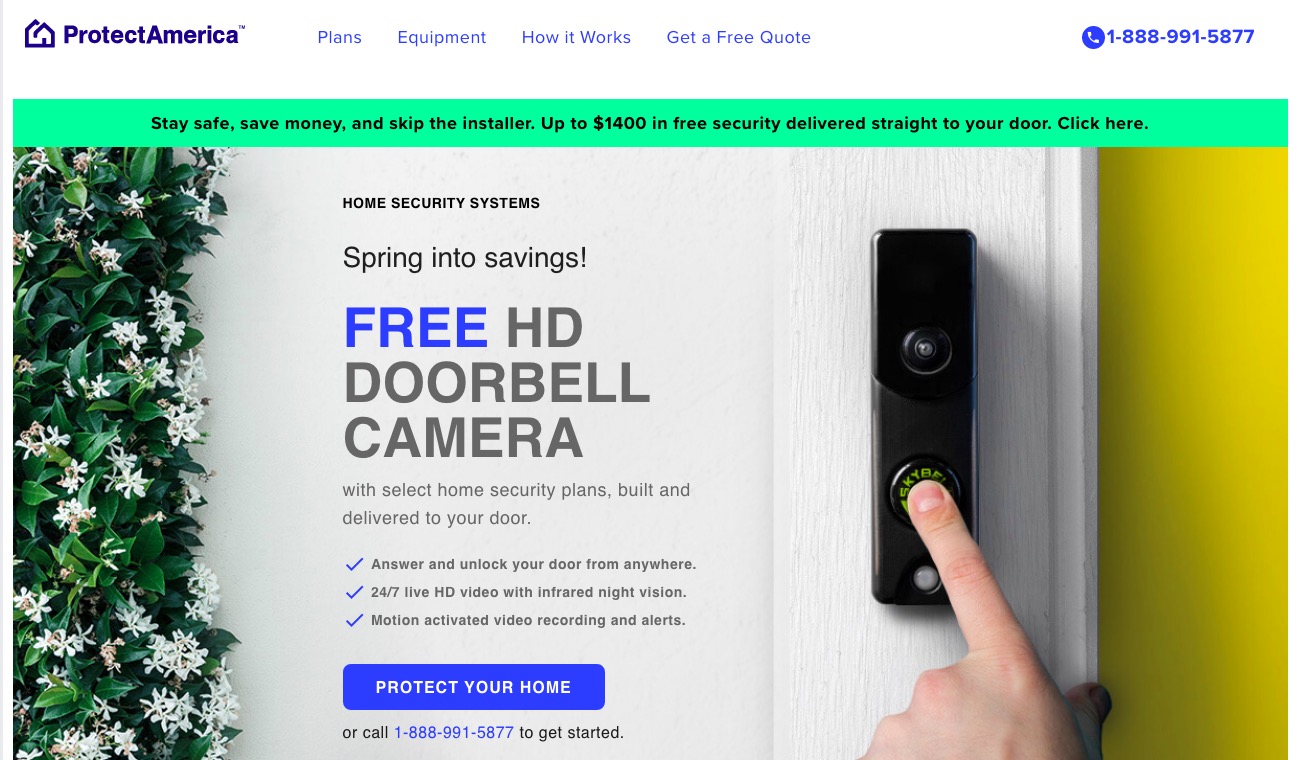 Features & Technology
Here are some useful features Protect America offers:
Lock-in of your plan.
You get a locked plan during the length of your contract (usually 3 years). Protect America will renew the contract after 3 years. To cancel, 60 days' notice is needed. This is a good feature if you worry about the cost increase.
Warranty on the equipment.
There's a lifetime warranty on every piece of equipment Protect America provides. This applies to all customers of this loyal company. Anytime, they make it easy to replace any piece.
A great option if you're a renter.
Protect America is great for people who move often or rent an apartment. It's easy to move the whole system to your new location, and Protect America does it completely for free! Every piece of the monitoring system can be installed without damaging the walls and doors, and the contract doesn't lock you to a certain location.
Credit score benefit.
To be able to use Protect America home security system packages, you need to have a credit score of 600 and higher. This is done to ensure the financial safety of the company. If you're a renter and have a lower score, contact customer support for information on your chances to be eligible.
Convenient return policy.
The Protect America return policy is very loyal and convenient. Every customer can adapt or apply to get a refund on the contract within 15 days from receiving the system, and 30 days if it's an additional piece of equipment. The client gets a full refund, which is a very rare and amazing thing.
According to Protect America home security systems reviews, all of these features, in combination with high-quality, low-cost tech, create the perfect balance.
Ease To Use
Protect America smart home is very easy to use and install. The company offers its systems for DIY installation, which means customers can do it themselves in several simple steps. Surprisingly, every piece is quite easy to install.
You don't need to drill the walls unless there are outdoor/doorbell cameras or a thermostat that comes in the package. All there is to do is peel the protective film and stick the sensor firmly to the wall.
Besides, you get the instructions from the control panel that comes with every Protect America house protection package, a mobile app, or if you call the customer support. To make it even more helpful for you, all pieces come already pre-labeled and in connection to the hub.
Protect America Home Automation Review: Pros/Cons
Here are the useful advantages of Protect America:
A lot of tech pieces are given out for free with only the monthly fee to cover;
The price of any system is much more beneficial than in other companies;
There is an option to make a larger payment up front and make the monthly fee more convenient to pay;
The match promise implies that if a customer finds another company that offers the same equipment set for a lower price, Protect America will match it, making the package more beneficial.
Here are some potential disadvantages:
Every customer has to sign a 36-month contract;
The landline package comes with slightly fewer features, but you still get high-quality home protection;
Monitoring fire and environmental damage will result in a larger payment, but they're still very reasonable and loyal.
Protect America Alarm System Review: The Bottom Line
Is Protect America a good company?
Protect America is an incredibly useful choice for both apartment owners and renters. The company offers both wireless and landline security systems. The latter will suit those who have a tight budget but still want decent protection in their home.
There are a lot of options that will make your experience even better. Pay a part of the monthly payments upfront, and you'll be able to save monthly. The warranty for the tech Protect America covers all the damage, so that's another financial benefit, not to mention the monthly rate lock-in during the whole time of the contract.
While the long-term contract might scare people, the ability to move the system wherever you're moving makes it much easier. You're not bound to one location!
A high-quality self-installed system for a loyal price is something every American should look for.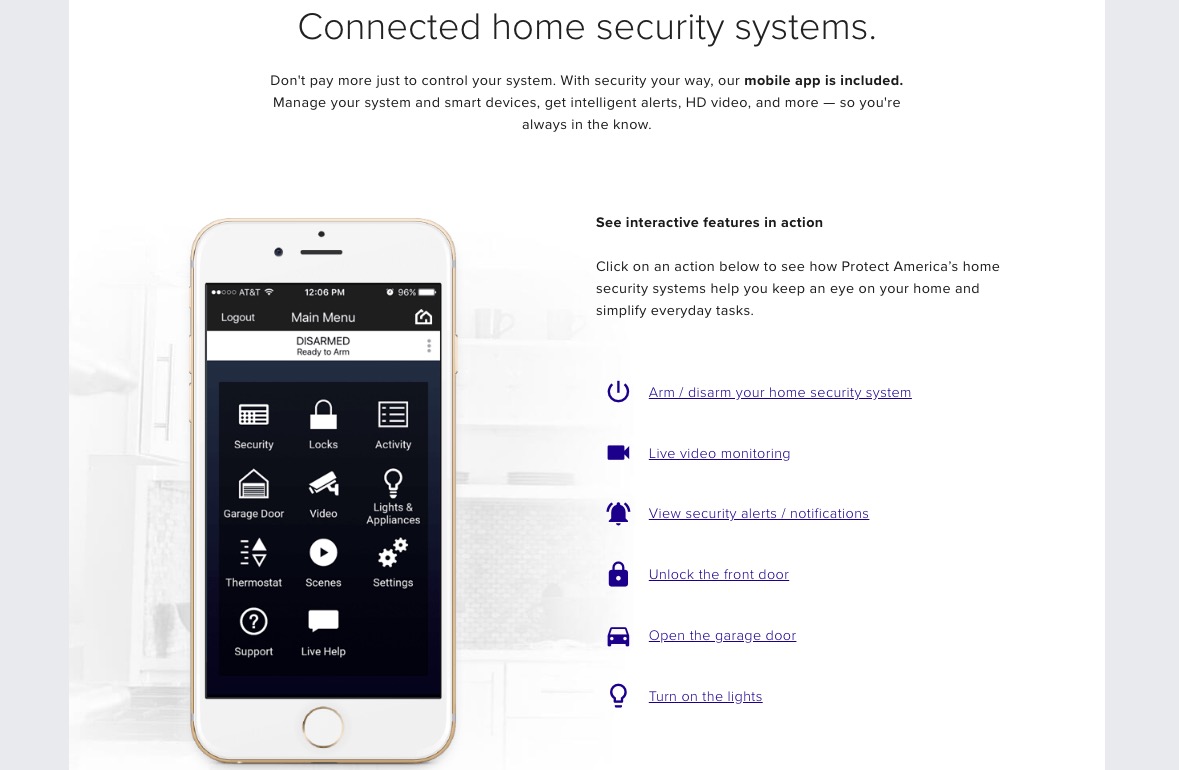 Protect America Reviews: Pricing
Protect America is one of the best options if you're looking for a movable system with DIY installation and affordable service costs. The plans start at $19.99 per month. The price changes with additional equipment, but you can get a great benefit from paying a $100-something upfront payment. The final number will be available when you agree on the beneficial details of the contract. But most Protect America home security reviews state that the company is decent and treats its customers accordingly.
Here are the additional prices for the equipment you can customize your Protect America plan with:
Windows and doors movement detector – $39;
Glass breaking sensor – $99;
Indoor/outdoor camera – $99/$149.99;
Motion sensor – $99;
Video doorbell (Skybell) – $179.
You can also add a smoke sensor for $99 or just apply for protection against fire and smoke and increase the monthly payment by $9.99. Do the same if you need carbon monoxide sensors.
There are more sensors available from $69.99 and above. Protect America also provides smart home equipment, including garage door controllers, medical alert pendant, smart thermostat, smart light bulbs, and several Z-Wave pieces. The greatest addition is a Z-Wave lock that costs $279.99.
As to the monthly fees, there are three main packages:
Landline protection.
This package doesn't require the Internet but requires a landline, as the name suggests. It's the cheapest option for only $19.99 a month.
Cellular protection.
The cost with this package rises to $31.99, given you agree to the upfront payment of $100.
Broadband protection.
This package is also $31.99 per month. It offers more equipment options, and you need the Internet to connect the equipment. The control app is included in the price.
Of course, it's much more convenient to get a wireless system and Protect America home security price is loyal enough for that. You get a control app and complete home automation with its own hub.
It's also possible to add live video streaming if you're away a lot; the service is only $5 per camera, which is very loyal. Every potential customer is welcome to apply for a free quote to find out the full price of their package.
You can ask to not pay the $100 upfront; the monthly fee will then be $29.99, so it's more beneficial financially to make the payment in advance. This option includes sensors for three windows and doors in your home, a key fob, one motion detector, and a hub to combine all the tech.
The other packages also include a SMART Connect application for your smartphone, where you'll be able to control the hub remotely, as well as home automation features. Here you can choose whether to use Wi-Fi or cellular connection.
If you have more windows, doors, or need more motion sensors, every package can be customized. That's why there is a free quote option on the website of the company. This won't cost you anything but the estimate of the final price will give the understanding of whether a certain package is right for you or if anything else should be added. The customization will cost from $5-$9.99 and more, depending on the equipment you need.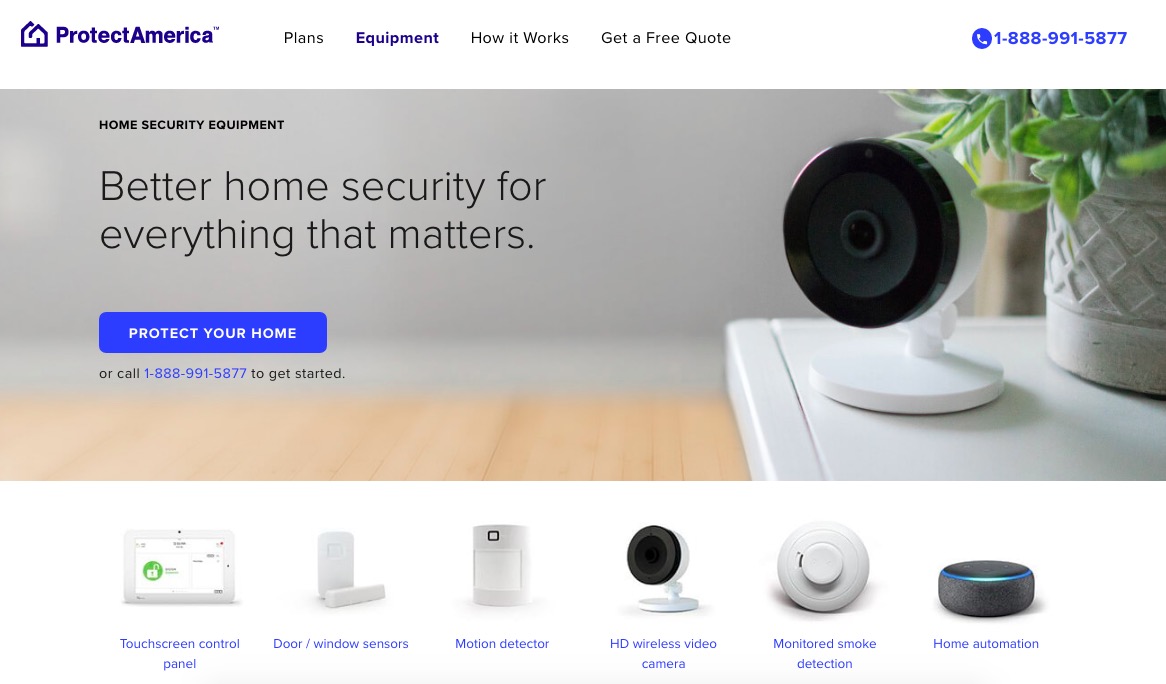 Protect America Security Reviews: Equipment/Devices/Features
Protect America security cameras reviews are very pleasant. The company offers live video monitoring, all kinds of security cameras for the inside and outside, a video doorbell, etc. They lack video analytics, but it's the question of time.
All cameras show high-quality 720p HD pictures and feature:
Night vision capabilities;
SD card usage for more recording time;
Notifications if an unwanted movement was detected;
Secure live stream when needed;
2-way audio capabilities (very useful for a doorbell);
Possible cloud storage (useful when you're away a lot.
Other great features include:
A line of Z-Wave equipment;
Compatibility with the most used home assistants.
What can be better in the future:
Compatibility with popular devices by Ring and/or Nest.
It's worth mentioning that Protect America plans are very customizable. You can get a base and build your system from there. Choose between:
Basic (3 doors and windows protection);
Complete (9 doors and windows);
Complete+ (14 doors and windows).
A wonderful benefit of Protect America is that you have one payment that covers everything. Usually, you have to pay for both tech and monitoring services. Here, you have one payment and a lifetime warranty for the equipment!
Protect America Security System Reviews: Control (App)
There is a smartphone application that is included in the Cellular and Wi-Fi plans. It's a very useful feature, offering you remote control over the hub. You can arm and disarm the system in a couple of clicks, for example, if your relative has to come over and pick something up while you're at work.
The app will also send notifications about the alarm triggers and other events. Besides, it will allow for smart home devices control, as well as live video streaming.
Customer Service
Protect America is a very customer-oriented company, so the support team is powerful. You can contact it via phone, email, or social media, as well as get a free quote for your home. The company's support is also responsible for the convenient installation instructions every customer gets with the equipment plan.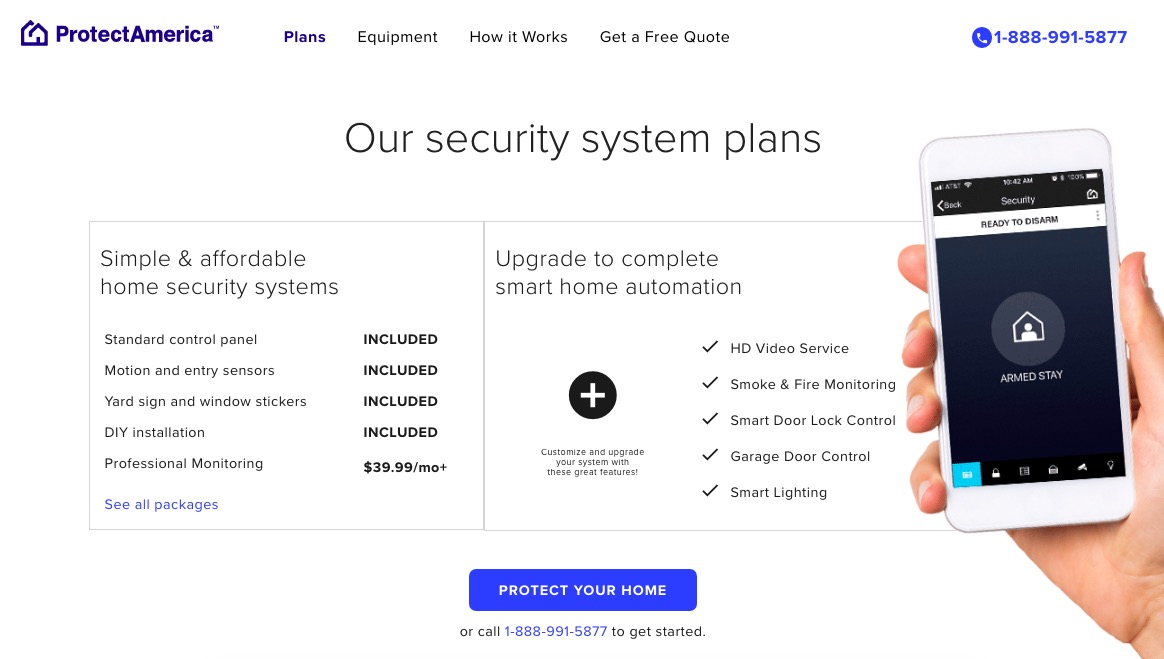 How To Order
The best way is to visit the official website of the company. As you can't find out the final price of your plan in advance, it's also wise to get a free quote. The specialists working for the company will calculate the cost of the most suitable plan for you.
Protect America Security System Review: FAQ
Here you can find answers to the most frequently asked questions.
Does Protect America Require The Internet?
If you're using the Wi-Fi package, then sure, you'll need a strong and consistent Internet connection.
How Much Is Protect America Per Month?
Depending on the chosen plan, the monthly fee is $19.99-$41.99. The final number also depends on the decision to pay or not pay the $100 upfront fee. If you choose to have additional equipment, this may also increase the final monthly payment. To get an estimate, apply for a free quote by the specialists from Protect America.
How To Cancel A Protect America Account?
You can easily find this information in the Settings section of your account on the official website of Protect America. If there are any difficulties with account cancellation, don't hesitate to contact the support team.
How Long Has Protect America Been In Business?
Protect America has been responsible for the security of numbers of homes for over 25 years. It was founded in 1992.
Does Protect America Offer Free Installation?
The installation is free because you have to do it yourself. Don't let this intimidate you, though, since the company makes it very easy and convenient. All the equipment you get is programmed for your house. Besides, there are instructions available over the phone, via the mobile app, and on the control panel, which is a part of every security equipment package.
Does Protect America Work With Alexa?
Yes, you can connect the equipment to your Amazon Echos' and other Alexa-based assistants. There's a skill on the official Amazon website.
Does Protect America Work With Google Assistant?
Yes, you can use the equipment by Protect America with your Google Assistant.
Protect America smart home reviews state that this company is one of the most loyal and affordable and still provides high-quality services. With home protection companies, it's often one or the other. But here you get effective customer support at every stage, convenient conditions of use, affordable Protect America pricing and solid security.
"Should I get Protect America," you ask? If you're after DIY installation and loyalty, then yes.