We all know the main constituents of a good and happy life. There are some basic aspects everyone wants to highlight to feel peaceful and pleasant. They include good health, welfare, personal development, active social life, and safety. Everyone wants to feel safe and protected. Nowadays, various alarm systems for home are designed to create a risk-free environment for everyone. The only task is choosing the most reliable and effective top-notch variant. Slomins vs. ADT comparison is to assist you in making the best possible choice to savor every moment of your life.
Overview Of Companies
Before you purchase this or that system, it's worth defining your needs and expectations. ADT or Slomins security equipment can perform awesome functions. They are:
Shield your precious property from break-ins;
Create optimal and favorable conditions for a safe and sound happy living;
Provide you with comfy total control of your dwelling;
Rid you of surplus worrying.
Both Slomins and ADT are professional companies. You can purchase Slomins or ADT equipment no matter what you are going to cushion – apartment, mansion, office, or even a garage. Slomins or ADT possesses all the necessary tools and options to cater to diverse and qualified security services. Yet, there are some crucial points to consider before signing up a pleasing contract with awesome Slomins or stunning ADT.
The following home security comparison chart is the best way to get an overall picture of both ADT and Slomins security options and traits.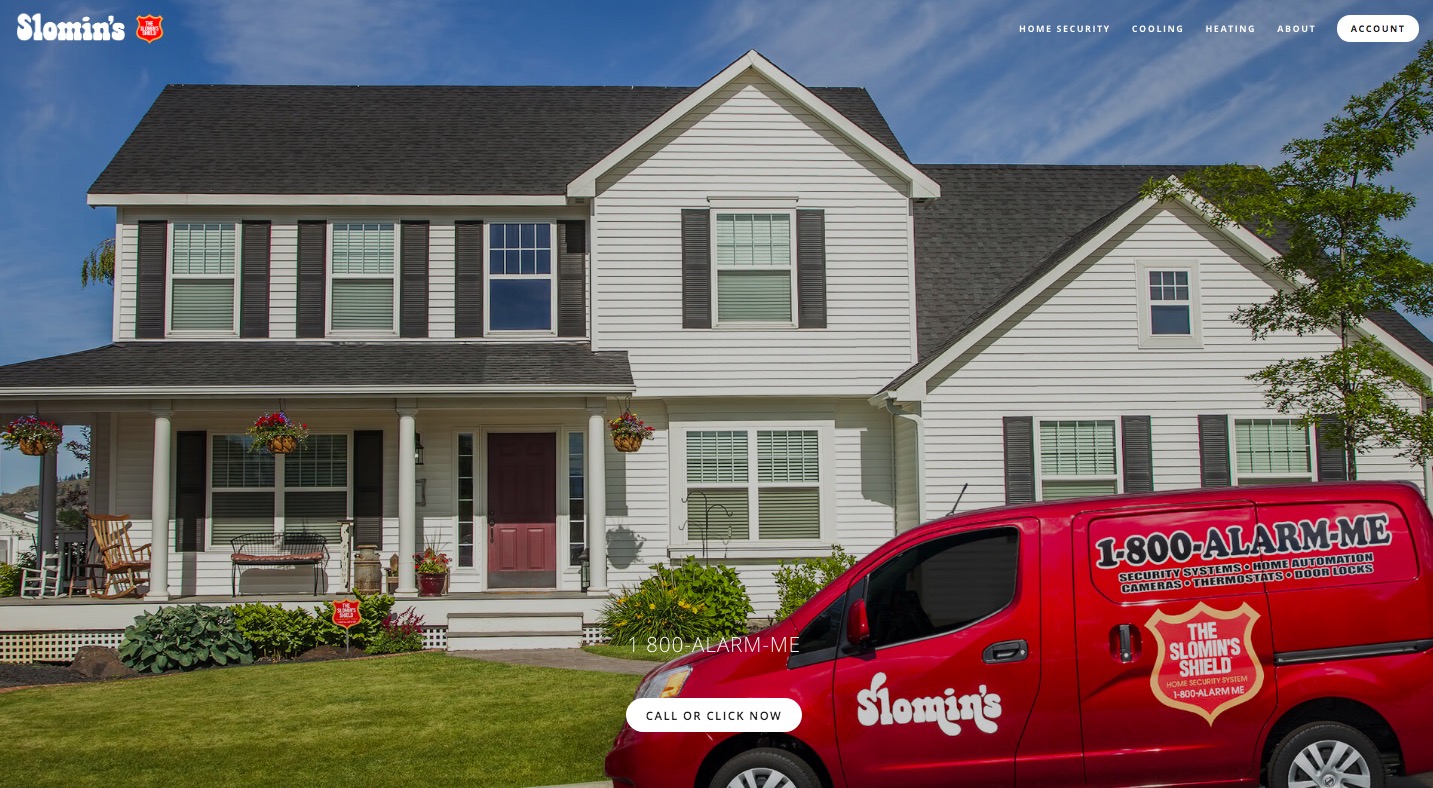 Essential features
Slomins
ADT
Upfront Cost
–
from $125
Monthly Monitoring Cost
From $29.95
from $28.99 to $52.99
Equipment/Devices/Features
Door alarms

Motion detectors

Smoke Indicators

Pull stations

Water indicators

Temperature detector

Camera surveillance

Access card control

Tracking technologies

Decals and Yard Signs

Security boards

Superb Inside and outside cameras

Awesome Motions sensors

Splendid Medical alert systems

Smart home automation

Fire and life safety tools

Easy to Operate/Control (App)
iOS 11.0 or later. Compatible with iPhone, iPad, and iPod touch.

Requires Android 4.4 and up

Compatible with Apple iOS 10.X or higher and Android 4.4 or higher
MoneyBack Guarantee
–
From 30 days to 6 months depending on the chosen package
Installation
Professional
Professional (from $99 to $199)
Customer Service
7.3
8.1
Overall Score
7.1
8.7
Similarities
ADT vs. Slomins comparison shows that opulent companies possess copious coincident facets. They allege great professional security services for individual and commercial valued clients. The most preeminent common traits include:
Excellent ADT or Slomins expert installment.
It's impossible to get top-quality equipment up and running without the assistance of skillful specialists. Both agencies send their technicians to your dwelling to install and launch gadgets. There are both supporters and opponents to this method. If you want to get tools that function all the time smoothly, the expert launch is a must;
ADT or Slomins contracts are obligatory.
Gorgeous Slomins and ADT security services are provided on a contract basis. It means you have to sign a special arrangement if you want to receive safety services;
ADT or Slomin can work with a wide range of gadgets. Even the awesome alarms are not the first thing the thrifty homeowners tend to purchase. Their initial aim is to equip the dwelling with all possible devices to make the living comfortable. When it comes to selecting ADT or Slomin, it's of prime importance to buy the one that will work well with all the gadgets in your dwelling. ADT or Slomins are good for diverse tools and devices. You are not to experience trouble with compatibility;
24-hour-a-day monitoring.
Although nowadays the greater part of security companies offers this option, it's still worth paying attention whether it's included in the package or not. Slomins and ADT provide top-quality monitoring. This option allows avoiding not only burglaries but also shields you from such mishaps as fire, flood, gas leak, and others. Slomins and ADT experts are to monitor your dwelling 24/7 all the year-long;
Security technologies are evolving over time. Homeowners want to control and administer every aspect of his or her protection. Slomins and ADT allow you to be the chief when it comes to supervision. You are to see what is going on via your phone or tablet. With the helpful assistance of a special app, you can alter the configuration of your security system even if you are absent. Moreover, the skillful expert will call the police if a burglar tries to break in your comfy dwelling.
Differences
Despite the above-mentioned similarities Slomins and ADT differ in many ways. It's possible to figure out the most typical of them when comparing Slomins vs. ADT lawsuit. You can't but notice some impressive distinctness.
The length of fine contracts.
Copious clients find it inconvenient to sing long-term contracts while they are to experience various brilliant security systems to choose the perfect one. Although Slomins and ADM plans imply the necessity to hammer out a deal, it's up to you to pick up the appropriate terms. ADT minimal contract is 5 years long while Slomins accepts a 3-year long arrangement.
Warranty for the products.
When you compare security companies, one of the main features to pay attention to is the quality of the equipment. The splendid Slomins and ADT cater for top-quality products. But ADT offers an astonishing lifetime warranty while Slomins provides only a 1-year warranty.
ADT is one of the best-rated home security systems that can be moved from one place to another. It means you can change your residence without significant financial outlay for security. The system moves with you. This cool outstanding option is not provided by sublime Slomins. It means you are to get marvelous support within the definite states where gorgeous Slomins works.
Slomins
Pros
If you are looking for top-notch security options at an affordable cost, Slomins is what you actually crave. All the clients appreciate the fact that even a basic Slomins package includes free equipment and installment.
Moreover, it's possible to order a free home visit. It's an ideal solution for people who have never used smart technologies before and do not comprehend how the house security system operates.
Cons
There are several crucial aspects you should consider about Slomins. The first one is the coverage area. The thing is the outstanding Slomins is presented in a limited number of states. The next disadvantage is that Slomins has only one monitoring center while ADT has 6.
ADT
Pros
Unlike Slomins, ADT allows its clients to experience all the advantages of the system before purchasing it. If something goes wrong within 6 months or services you get do not meet your expectations, you can get your money back.
One of the most preeminent advantages of ADT security system is superb customer service. You are always to get answers to any question 24/7. If something goes wrong with the gadgets, you are to get the same-day or next-day service. You don't need to wait for weeks for an expert even if the weather conditions are bad.
ADT One-Button Panic Pendant is a unique option that allows you to turn on an alarm by pressing only one button you always keep by hand.
Cons
According to Trustpilot reviews, the greater part of ADT clients points out the same drawback – rather high prices. You have to pay up to $850 for outstanding security equipment, no matter what great ADT package you select.
Features
When you compare Slomins and ADT companies, you should take into account such aspects:
Installment and activation. The customers of Slomins get it for free while ADT supporters should pay from $99 for it;
Monitoring. The prices differ leaning on the plans you pick up. ADT and Slomins cater the around-the-clock supervision. Even the best self-monitored home security system can't be compared with the brilliant professional service. The latest one makes you feel safe and calm in any situation;
Available types of gadgets. ADT caters more diverse and exciting assortment of the tools for your dwelling. Slomins' offers are rather restricted;
The customer supports. When cooperating with Slomins, the most effective ways of communication with Slomins managers are via mail or phone. The top-rated ADT offers several awesome alternative methods of connection with managers: mail, chat, app, cell phone.
These criteria are of prime importance when it comes to remarkable home security cost comparison. The list of the traits can be expanded with additional points such as extra services, compatibility, the assortment of packages, etc.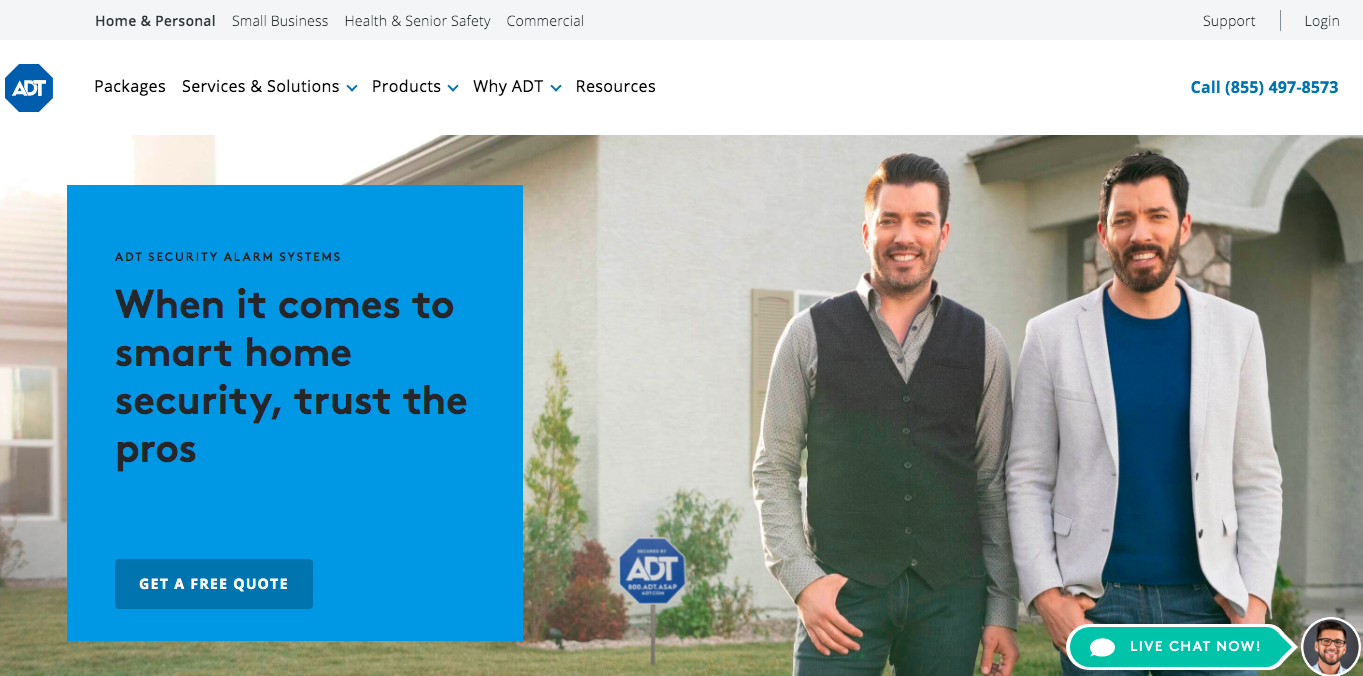 Contracts
It's impossible to make the right choice without ADT vs. Slomins security services price comparison. ADT monthly cost starts from $27.99, while Slomins monthly cost starts from $33.95. It depends on the selected plan of the best home security systems.
ADT caters 3 main variants: Secure, Smart, and Complete. The first one is standard and includes 24/7 monitoring, the minimum needed equipment, fire, water, and smoke indicators, expert launch. If you want to get video clips and enjoy live streams from your cell phone, you should order a Complete package.
Slomins deliver two packages – basic and advanced. The first one involves launch and monitoring. You also get the set of necessary equipment. The advanced variant includes home automation and an expanded set of gadgets.
Installation
ADT vs. Slomins review shows that there is no significant difference between the two agencies when it comes to the process of installation. Both companies provide professional installation. ADT and Slomins experts come to your dwelling and do everything for you.
Slomins charges no extra fees for installation. The easy process takes up to 3 hours. Sometimes it can be longer, depending on the selected package and desired devices.
Emergency Connections
ADT vs. Slomins analysis can't be full without comparing emergency connections. You should concede what the efficient and competent managers of the superb companies will do in case of an emergency. Slomins experts are to call local authorities as soon as they detect the problem. Before doing this, the experienced Slomins' managers contact the valued client to clarify whether the alarm is real or it's the result of the client's negligence.
ADT offers such an option as Police Response. If you activate it, the qualified managers of ADT call the police when an intruder siren is triggered or if you press the personal attack button. Moreover, if you perchance a great health emergency plan, the superior managers call an ambulance when something goes wrong.
Conclusion
ADT security system is definitely the crown jewel of the protection market. It offers an all-encompassing assortment of security options. ADT an ideal choice for those who are ready to pay for peace of mind and impeccable customer support. You can hardly name an awesome protection service the gorgeous ADT doesn't provide.
Slomins is a great firm with a long interesting history. It's prized for an excellent case-by-case approach for every order. Although Slomins doesn't cater to such a huge variety of options as ADT does, you can give Slomins a try if you are looking for a stable security system for reasonable prices.