| | | |
| --- | --- | --- |
| Security Product Comparison | ADT | Protect America |
| Upfront Cost | From $99 | $0 |
| Monthly Monitoring Cost | From $48.99 | From $19.99 |
| Easy to Use/Control (App) | 9.2 | 9.1 |
| Money-back Guarantee | 6 months | 15 days |
| Installation | 9.1 | 9.0 (DIY installation) |
| Equipment | 9 (leased) | 8.5 (owned) |
| Customer Service | 8.1 | 7.6 |
| Overall Score | 8.6 | 8.4 |
Sure thing, you want to protect your home from any intruders out there in the best way possible. If you treat your home security seriously, you may want to do in-depth research on the best home security systems available in the market. Of course, you want to read honest reviews to make the best decision. There is no doubt about the fact that ADT and Protect America security systems are the leaders. That's why you want to get as much information about these companies as possible to make an amazing choice. In this Protect America vs.
ADT review, we are going to compare Protect America and ADT, disclose their pros and cons, analyze all the features they have. Hopefully, it will walk you through all the key points that you need to take into account while choosing the best home security solution for your family.
Protect America And ADT Similarities
Let's begin our comparison of ADT and Protect America with the key similarities. ADT and Protect America both offer you an opportunity to manage their systems via apps. They are really easy to install and very intuitive to use. Their apps are available on Android and iOS mobile platforms.
Another thing they have in common is that professional monitoring is a requirement. With both ADT and Protect America security systems, you're going to have professional monitoring.
Is there anything else they have in common? Yes, they both have amazing 24/7 customer support that will readily resolve any issues you may have with your home security systems. Though we found that ADT has a little bit better support, in general, support services of both companies are good enough.
Finally, there is one more similarity. You need to sign the contracts. Both ADT and Protect America require you to sign, at the very least, three-year contracts with them as home security companies.
ADT vs. Protect America: Differences
Pivoting from some of the similarities between ADT and Protect America, we want to focus on one key difference between the two companies. This is a professional monitoring service.
They both have professional monitoring, but the way you pay for it is a bit different. With Protect America, you actually get the professional monitoring thrown in with payment of the system. Of course, you want an awesome reliable cellular backup. It's super easy!
We strongly believe that everyone should have a cellular backup, just in case something happens with your power line or your Ethernet cable, and you need to get that necessary information out. The cellular backup is really that important.
With ADT, you pay for professional monitoring. The cellular backup is there. You get the same functionality out of both systems. They offer you their super-easy monthly subscription. You pay for it in a different way.
What difference comes next in our Protect America vs. ADT comparison? It is the installation process. ADT offers a professional installation made by their experts. This is an essential requirement, and there is no way to opt-out. While to start using Protect America home security system, you need to use your own hands as they offer you only a DIY installation.
Finally, we would like to focus on home security cost comparison. Protect America's monthly cost is a way more affordable. Their monthly plans start from $19.99. Most importantly, they don't charge you any upfront costs. So if you are looking for more pocket-friendly home security solutions, you may want to try Protect America.
At the same time, ADT offers you their amazing monthly plans starting from $48.99. It can be explained by the fact that they deliver more quality service and they are a more well-known brand in the market.
Protect America
Pros
Protect America is definitely a good option if you want to save on home security systems. They have friendly and cognizant customer support that is happy to help you out anytime you need their assistance. They are doing a really great job consulting over the phone during the installation process. There are no upfront costs for you, which is awesome! This is also one of the advantages of Protect America. Another thing that we liked about Protect America is that they send you window stickers, Motion sensors, yard sign, entry sensors, control panel for free. All this stuff is included in the price you pay. That's pretty cool.
Cons
As this is a completely honest Protect America vs. ADT review, now let's get down to the cons of Protect America. The field of view for the Protect America camera is only 60 degrees. That's why you want to spot it in the best place in your room to capture the angle as big as possible. Kindly pay your attention to the mobile experience that Protect America offers you. iPhone users give it a 2.4 out of 5 stars in the Apple App Store and a 3.1 out of 5 stars in the Android Play Store.
Another thing that you need to take into account while comparing Protect America vs. ADT is there are both positive and negative reviews on Protect America out there.
ADT
Pros
With years of experience under their belts, ADT can be a great option for you. The company is completely trustworthy with hundreds of positive reviews. It's important that your mobile app allows you to control every element of it. When it comes to ADT, it fits the bill. In the Apple App Store, their app gets 4.8 out of 5 stars, which is tremendous. They have 3.9 out of 5 stars in the Android Play Store. People just seem to really enjoy the mobile app experience with ADT. On top of that, they have pretty good support service.
Cons
The price is not so affordable. Of course, you want better quality. ADT is here to give you amazing quality. They offer it at higher prices. ADT offers you to use third-parties equipment.
Features
Protect America vs. ADT. Which one is better? Here are the key features of home security systems brought to you by Protect America and ADT:
ADT and Protect America have professional monitoring;
You can use both systems on mobile;
They both have a minimum contract of 36 months;
Both companies have good support services.
For more details on numbers, feel free to check our Protect America vs. ADT home security comparison chart on the top of the page. If you are searching for better quality, we recommend you to consider ADT as an option. If you are looking for an affordable home security solution that can meet all your basic needs, we recommend you opt for Protect America. Both of them have their own cons and pros. It's completely up to you to decide what works best for you. We just compare security companies, and you make a decision.
Protect America vs. ADT: Contracts
When it comes to contracts, once again, we find a lot of similarities between ADT and Protect America. This Protect America vs. ADT review reveals that you need to sign a three-year contract with both companies. You can look for other best companies if you want to opt for an amazing monthly payment plan.
Now, let's get into the price comparison. The companies have different packages. Protect America offers you Copper, Silver, and platinum plans. If you choose the cheapest option, you'll need to pay them $719.64 for 3 years of their services, which is pretty awesome! In the case of ADT, the price for 3 years will vary depending on the plan you choose. The lowest price for 3 years with ADT is going to be $1763.64.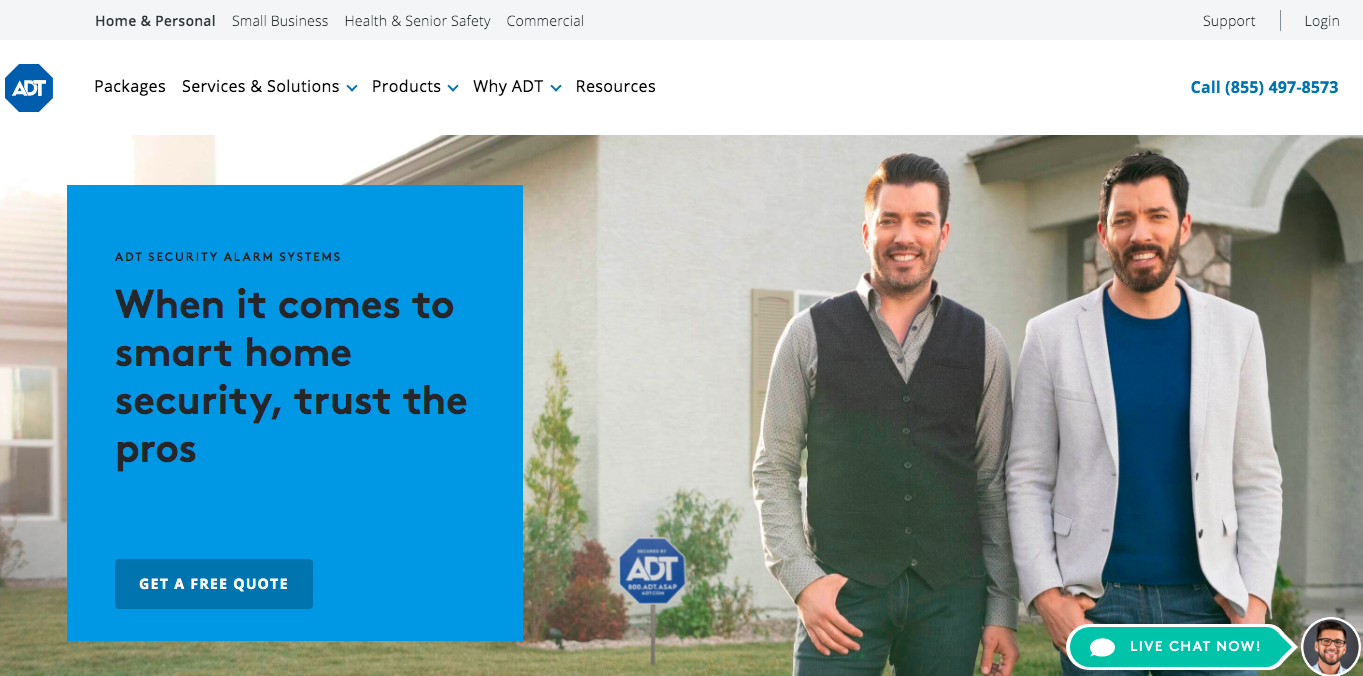 Installation
As for the installation process, ADT offers you a professional installation service, while with Protect America, you need to do it on your own.
Each of these systems is highly customizable. You can add smart locks and garage door openers. So if you choose ADT, you just need to pay them $99, and they will do the rest. It's hassle-free for you, which is cool. If you opt for Protect America, you'll need to install the system on your own. It's easy and free. Your pieces all come together in a box: the hub, keypad, entry sensors, motion detectors, and finally, that indoor security camera.
Protect America helps you set it up over the phone. That's pretty cool. Honestly, it really facilitates the process. You take out your hub, get your pieces together. Go to your frame and put it up. Then you put up your motion detector in the same manner. Finally, you set up your indoor security camera. Easy-peasy.
ADT vs. Protect America Review: Emergency Connections
Now, it's time to talk about emergencies in our unbiased Protect America vs. ADT review. ADT is one of the best-rated home security systems out there. Once an emergency happens, ADT will call 911 for you. Both ADT and Protect America give you reliable alarm systems for the home. If anything happens, they will take care of it. Protect America provides you with an emergency dispatch option. Their security experts will call you before they call the police or other authorities, so you always have an option to cancel the call.
Protect America vs. ADT Comparison Conclusion
To wrap it up, we would like to say that we want to give you an amazing opportunity to indicate the best self-monitored home security system for you. We provide you here with our honest Protect America vs. ADT review so that you can make your own awesome decision on security systems that we've discussed. As for Protect America vs. ADT lawsuit, we haven't found any credible information on this matter while preparing this review.
We are not here to tell you which home security company to choose. Instead, we highly recommend you read this review carefully, check the websites of the companies and reviews of people who used their services. The next step is to analyze all the pros and cons of each of them. Do in-depth research before you make a choice.
ADT seems to have better reviews and deliver a better experience for those people who love to use mobile. On the other hand, Protect America offers you more affordable home security solutions. They charge you no upfront costs.