Price

From $15.95 per month

Equipment/Devices

8.5

Customer Service

9

Features & Technology

8.5

Ease to use

Overall score

8

8.5
You must have heard about Fort Knox as about the military base in the USA. It's also the name of the top home security system that is based in Texas and can guard your house, not worse than the company of soldiers.
According to Fort Knox reviews, it protects both commercial and residential buildings at a rather low cost that starts from $15.95 per month and does its work properly, using the most innovative technologies.
The company has been on the home security market for over a decade already, protecting property with the top-quality equipment and reliable monitoring devices that are very user-friendly. Their technicians know what to do to provide homeowners with guaranteed security.
Besides home security services, Fort Knox is known for its effective business and smart home integration solutions. Do you wonder whether it's the best security among tons of offers in today's market? Check the Fort Knox review to learn everything you need to know to make the right buying decision.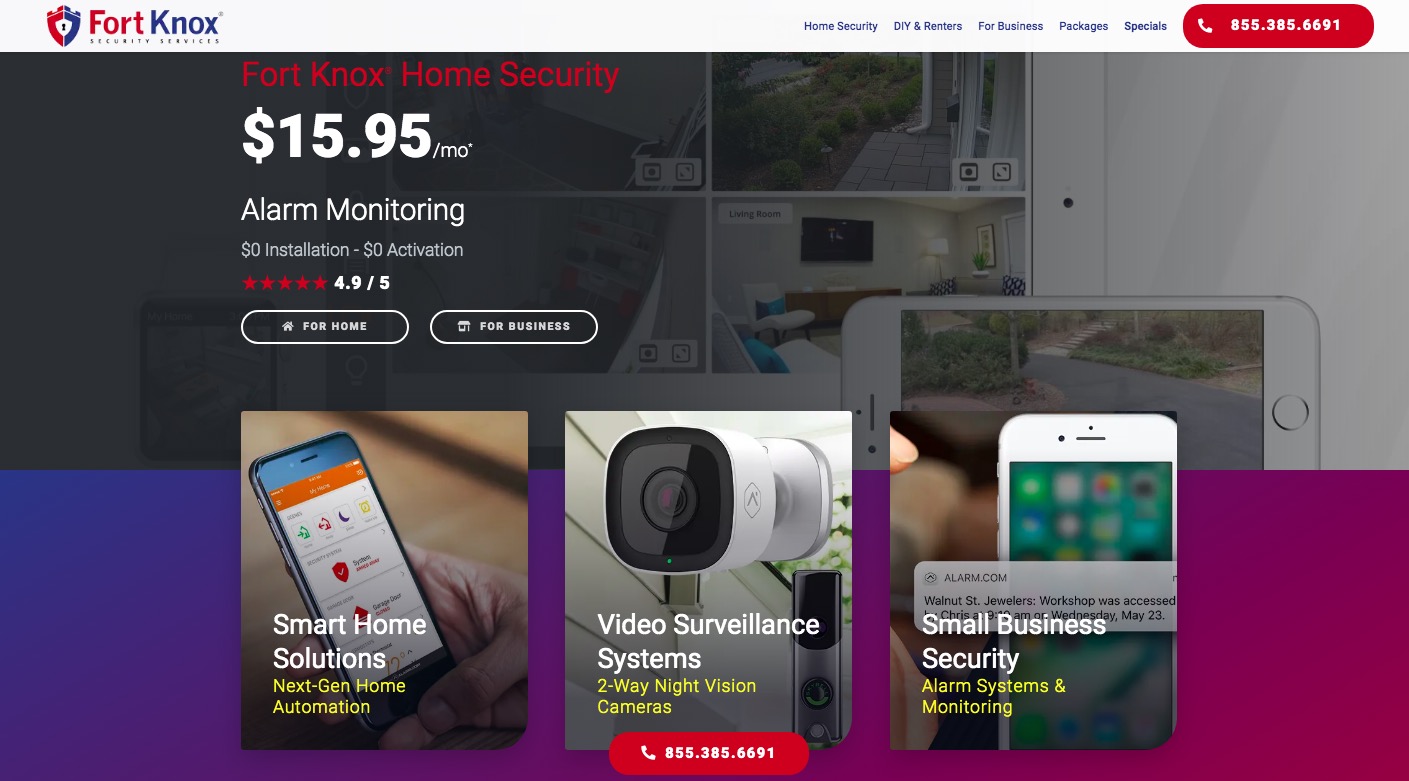 Pros/Cons
So, let's outline the main pros and cons and discuss each of them in more detail for you to make a well-informed buying decision.
Pros:
Smart features;
Affordable cost;
Protection from any kind of emergencies.
Cons:
Not much info about available packages and extra costs;
The standard package doesn't include an opportunity to access the system remotely;
The system of protection works only in Texas;
The cancellation procedure isn't as easy as 1,2,3.
According to Fort Knox security reviews, the company has tons of advantages. Among the key features smart homeowners like are the good quality features, technology for 24/7 monitoring, and low prices. Choosing Fort Knox, among other options in the market, you'll benefit from low pricing everyone can afford to pay monthly. One of the bonuses is the installation and activation. Customers shouldn't pay for any of them.
The company has professional technicians who install security packages that correspond to all the quality standards for free. The good news is that you don't have to wait for long until the company installs the security system. The setup takes place the same day you purchase the system. One more great feature is the connection to medical officials and police who will react in case of an emergency. Buying this system, you are getting a set of cool modern technologies that are designed to protect you from any kind of unexpected intrusion, fire, etc.
Now, let's talk about the drawbacks the system has, according to Fort Knox, smart home reviews. Most customers say that they would like to get remote access to the system, but, unfortunately, it's possible only if you upgrade the system and pay additional fees. One more thing that can be considered a disadvantage is the absence of enough information about the packages and all the options you can enjoy. This means you should call the company to find out whether Fort Knox can satisfy all your wants and needs, or you need to continue the search. And finally, you need to take into account that the company offers smart home protection only in Texas.
If you decide to change your location, you won't be able to continue using the services of Fort Knox. There is one more thing to consider before you purchase Fort Knox. Most homeowners admit in their  Fort Knox security system reviews that it is difficult to cancel the contract. That's why pay attention to this nuance and be careful when reading the fine text of the contract.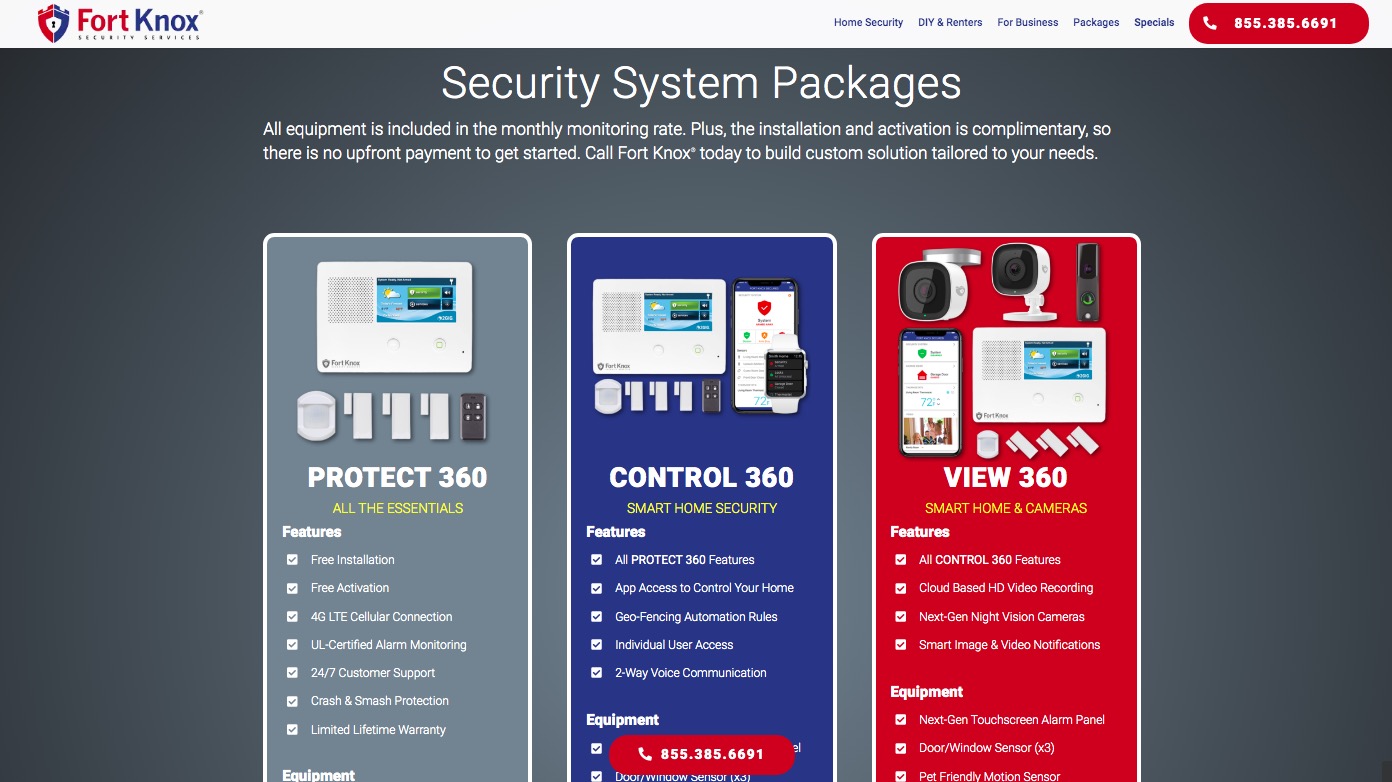 The Bottom Line
If your home is guarded with the Fort Knox security, you can feel completely safe. The company has years of experience in protecting private houses and small businesses. It means you can rely on the high-quality equipment used by Fort Knox. The home security package includes all the necessary devices to make sure that nobody will be able to intrude into your house.
Is Fort Knox a good company where everything has been designed on the top level? Our Fort Knox alarm system review proves that it's like. The company has taken care of all the tunnels, doors, and windows. The security package includes all-inclusive coverage from unexpected fire and smoke. One can find many Fort Knox security cameras reviews, and all of the customers say that they provide superior-quality monitoring round-the-clock.
Fort Knox Pricing: How Much Will It Cost You?
One of the main advantages of the system is its affordable price. Compared to many other home security packages that have a huge monthly cost, Fort Knox offers to protect your property at $15.95 per month. The low Fort Knox home security price is just one of the great benefits. The company's technician will come to you and install the system at no cost.
The activation is also free of charge. There are several things to consider. First, it is the need to sign a contract for a minimum of 36 months. Secondly, as Fort Knox home security reviews say, it won't be as easy as ABC to cancel your subscription. In any case, Fort Knox pricing is much better than many other packages have.
Equipment/Devices/Features
Fort Knox smart home technology will definitely impress you. During years of successful work, the company has improved home security control and provided a multi-cellular connection. You can forget about any worries connected to the monitoring system. 24/7 monitoring is what you can enjoy. The smart home security developers have taken care of the emergencies. For example, you shouldn't start panicking when something bad happens to the control panel, and it doesn't work properly. If someone intrudes into your house or there is any other emergency, you'll be able to inform the monitoring system about this.
The smart technology used by Fort Knox allows having the entire building over control. Be the only one who controls lights and locks. You'll be glad to know that by buying Fort Knox, you can save not only on the purchase of the low-cost security solution but also pay less for electricity bills. It's possible thanks to the smart technologies the company uses.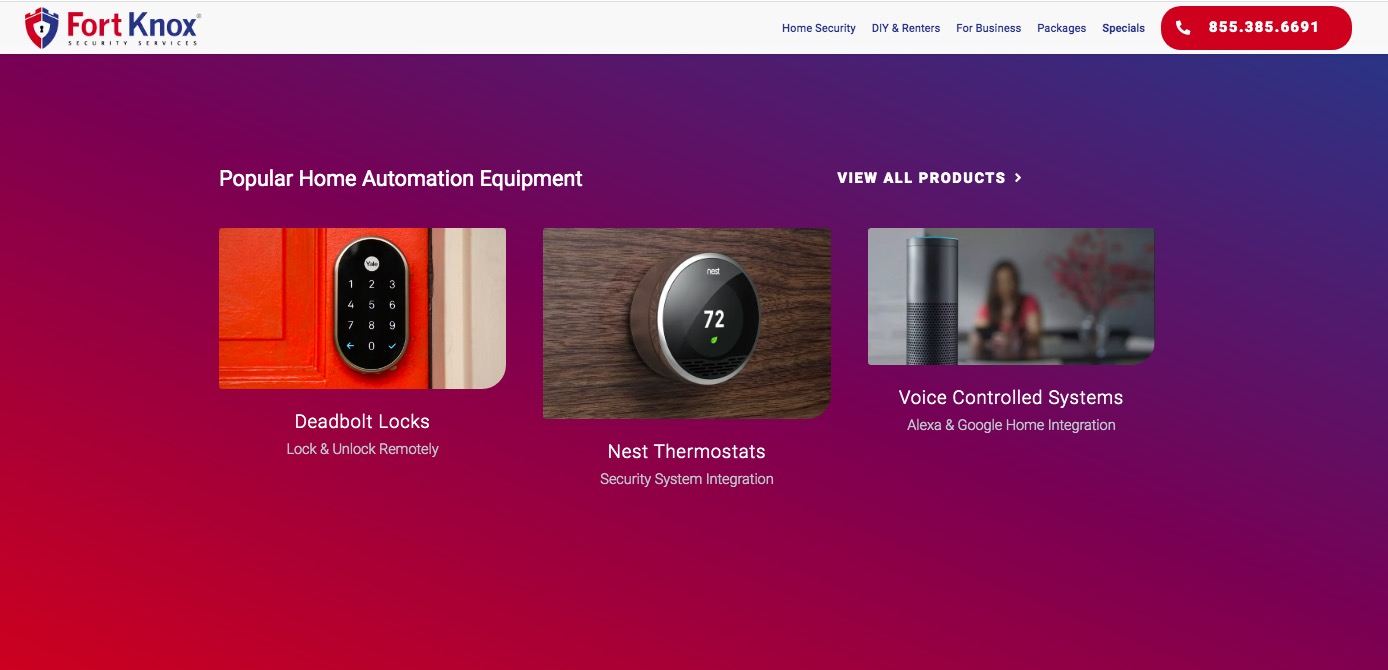 Fort Knox Control (App)
Our Fort Knox security system review moves further, and now we want to draw your attention to the possibility of using mobile devices to control the system. Smart homeowners have got an opportunity to monitor everything in just one click. The download of the application takes seconds. Using it, you can control all the security system technologies, regardless of your physical location. Choose the necessary scene on your smartphone (home or away, sleep or wake up), arm the security system Fort Knox, and manage all the functions wherever you are. The app is user-friendly and works without errors.
Fort Knox: Top-Rated Customer Service
Whenever you have a question, you are welcome to address it to customer support. You're guaranteed to get a detailed answer with instructions on how to deal with the problem. The company offers to choose the most convenient way to refer to their customer care. You can either send an e-mail or make a call. It'll take you several minutes to fill in the special form and comment on the situation.
The professional customer support will consider your request at the earliest convenience. If you need to get some information instantly, then you can call the customer support, using the phone number you'll find on the main page of the website. If you enter the site of this expert service provider, you'll see that there are many positive testimonials from satisfied clients.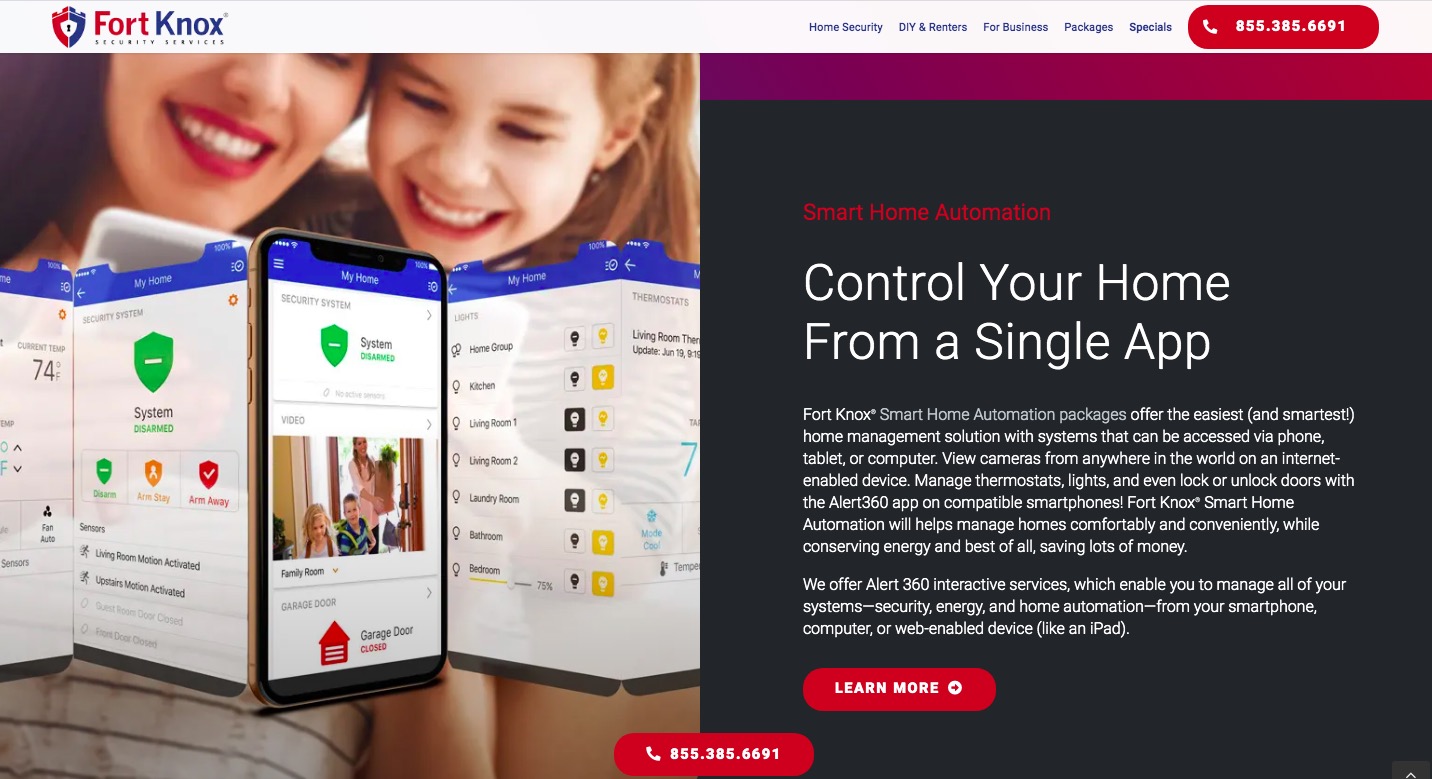 How To Order Fort Knox Home Security Services?
It's easy to buy things you need online today. The same is here. First, you should check all the packages the company offers. There are several wow options to choose from. The home security provider offers to customize your home security system. This means you can add any features you need and create your perfect home or business security guard. You are welcome to add high-quality extra thermostats, video recorders, HD cameras, and other cool options to your shopping cart.
However, you're recommended to call and consult a specialist whether you need this or that great option, taking into account your individual living conditions and your personal wants. The manager will help you choose the optimal variant for your budget and include adds-on that will make your home a fully-protected building where no one will enter without permission. They will process your order, confirm it, and set up the chosen home security system the same day you have made the purchase. It is as easy as ABC, isn't it? According to Fort Knox home security systems reviews, the company's specialists have got a high rating as they are always ready to help in the selection of the right automation system.
Conclusion: Should I Get Fort Knox Or Look Further?
In the conclusion of our Fort Knox home automation review, it's possible to say that the Fort Knox house security system has a high rating. It's well-known in Texas for its smart protection technologies and tons of options for smart homeowners to have control over their houses wherever they are. It's worth highlighting that the price for all these advantages is rather low compared to other systems of home protection.
So, if you are looking for high-quality equipment for sale to be sure that your residential or commercial property is well-protected from any type of emergency, don't look further. If you check the options available in the standard package and you consider them to be insufficient, you can add an indoor camera, pulse cameras, doorbell camera, and other devices for round-the-clock monitoring and 100% safety. It's a big plus to get an opportunity to customize your system, depending on your personal wants and needs.
Choosing Fort Knox, you are getting many advantages at a relatively low price, paying as little as $15.95 monthly fee. The company has great equipment options that can protect any building from the unexpected intrusion and emergencies. You shouldn't worry if your elderly parents stay at home alone.
Even if something bad happens, the monitoring system will send the necessary information about the situation to medical and police officials. Alarms work round-the-clock to protect the house. So, you can relax and check your smartphone from time to time to change the settings. It's easy to control your home, using a specially designed app that can be downloaded by both iOS and Android users.
Don't hesitate to purchase Fort Knox if you want to save money and receive high-quality services the same day you make a purchase.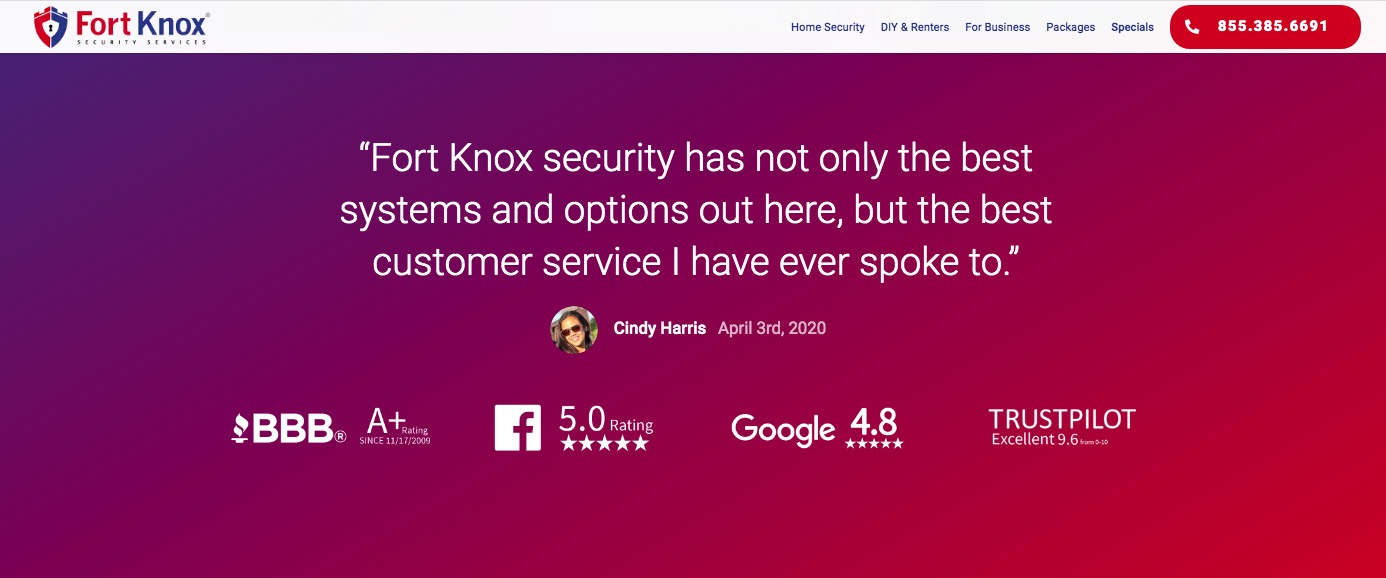 FAQ
Does Fort Knox Require The Internet?
Fort Knox security company offers both Internet-based and wireless security solutions. There is an excellent package called "Wireless Protect." Many homeowners choose the wireless security system package for the possibility to use a 4G Wi-Fi connection.
How Much Is Fort Knox Per Month?
The price for the basic package of home security services starts from $15.99. If you need extra features, you can choose any add-on available on the website. The price is flexible as you are the one who can choose which additional features to pay for.
How To Cancel A Fort Knox Account?
You are recommended to check the cancellation rules before you buy a home security service package. Read what's said in the agreement. According to many customers, the process of cancelation is time-consuming and isn't free of charge.
How Long Has Fort Knox Been In Business?
The company Fort Knox is a well-known provider of home security services that is on the market for a decade already. It can rightly be called one of the leaders on the security market.
Does Fort Knox Offer Free Installation?
One of the benefits of using the services of Fort Knox is that they offer both free installation and activation. Just buy the security package you need and get the best quality services of setup for free.
Does Fort Knox Work With Alexa?
Fort Knox offers smart integration solutions with Alexa devices.
Does Fort Knox Work With Google Assistant?
You'll be glad to know that Google Assistant is compatible with the home security Fort Knox. You'll benefit from its flawless work.