Overall Score
The overall score of Habitec Security company is summarized as follows:
Price: Very Good. The initial (installation) prices, as well as Habitec monthly fees, are quite reasonable. Installation prices start at $99, and monthly fees can be as low as $22;
Equipment/Devices: Very Good. Only top-quality devices are used in the wireless security system, made by reputable manufacturers (Honeywell, First Alert);
Customer Service: Excellent. The service of the Habitec company is second to none;
 Features & Technology: Excellent. The Habitec company leverages state-of-the-art technology to offer a myriad of great futures, including home automation;
Ease to Use: Excellent. Simplicity is one of the main targets of all the safety solutions offered by the Habitec company.
Overall, the Habitec company ranks among the best safety companies in Ohio.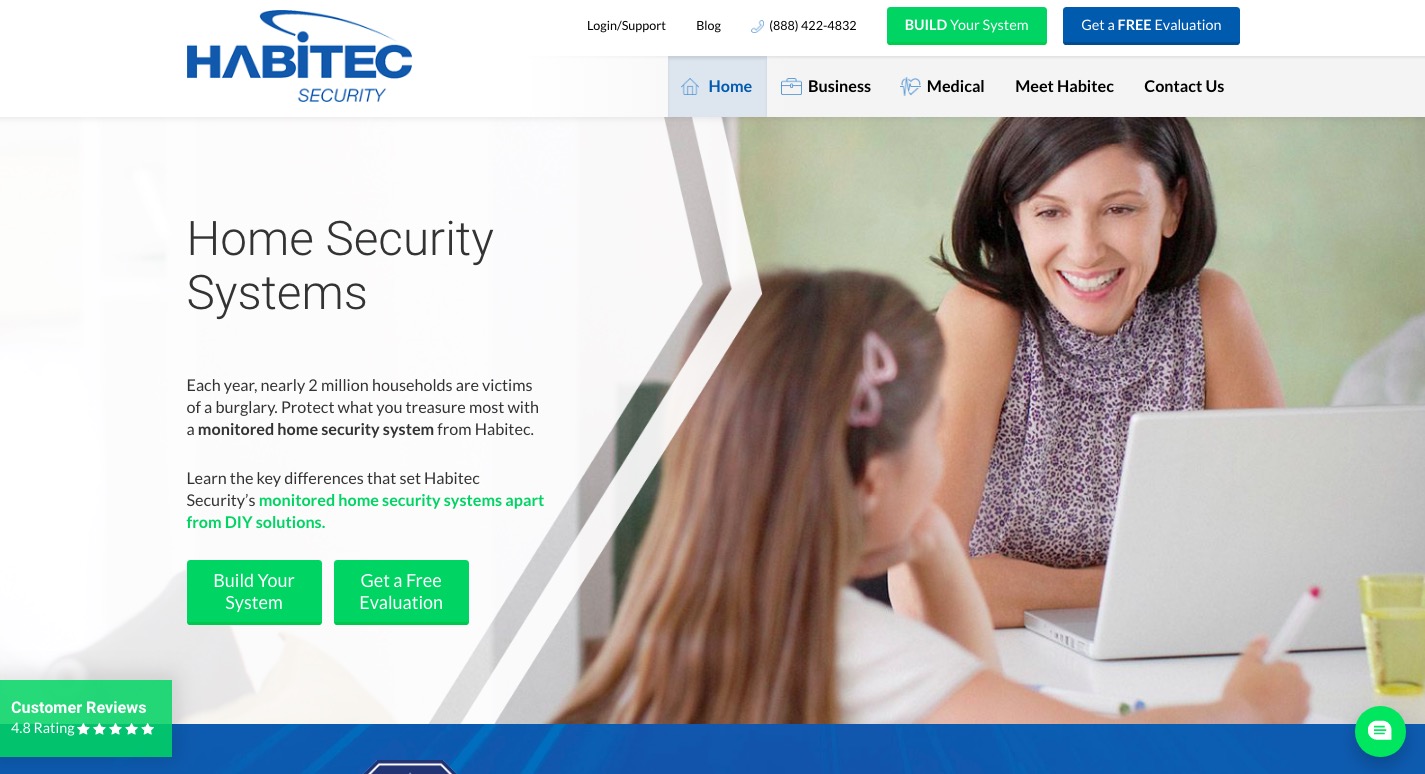 Pros And Cons
Most Habitec Security smart home reviews present a list of pros and cons. It is a practical way to assess the company, and numerous Habitec Security home security reviews prove it. With several companies on the market offering good safety equipment for sale, you may wonder, "Which one should I get?" To get the right answer, reading about the different equipment options, and comparing them, is the best way. There is a lot of good information available online. You can do your research and find out the best solution. Wouldn't it be better if someone could do the review on your behalf? This is a very good idea, isn't it?
Hence, you will see a list of pros and cons in this comprehensive and informative Habitec Security review too. You will learn about the excellent solutions that the Habitec company offers, which you can use in your house and/or business. This Habitec Security security system review has no bias at all. Thus, you will get an honest assessment to facilitate your comparisons.
Pros
The following are the very good things about Habitec Security smart home safety solutions:
You get the service from a company with proven ample experience. Habitec Security was established in 1972; thus, it has been in business for nearly five decades. Habitec people know well what they are doing. Moreover, you can expect premium service from this company based in Toledo, Ohio. Being a family-owned company, customer satisfaction is the top priority for Habitec. All their safety systems provide 24-hour monitoring thanks to a central monitoring system that covers the entire state. Is Habitec Security a good company? Just take a look at its background, and you will see that Habitec company is excellent;
You get a reliable safety solution. This is one of the most important factors to consider when selecting a safety solution. Habitec Security security company offers trustworthy solutions that have been adopted by more than 13,000 homes and businesses in Ohio;
You get excellent Habitec customer support at any time you need it. The 24-hour monitoring benefit was already mentioned. However, as a customer, you also enjoy 24/7 support in case a problem with your safety system arises. Habitec Security company has 30 highly-trained technicians available to help customers any day of the year. No wonder this company has been recognized as the #1 safety company in the state in which it operates;
You can choose between large varieties of safety systems. As mentioned before, Habitec Security is a company that offers several solutions for home, business, and medical scenarios. The different home solutions that Habitec Security offers comprise home safety, fire alarm, home automation, safety cameras, access control, and environmental monitoring. Likewise, the different business solutions are similar, but more oriented to offices and industrial premises. As for the medical solution, Habitec Security offers alert systems monitoring to ensure that people at risk get immediate medical attention if needed.
You can enjoy all these benefits by using Habitec Security services. Most of the customers of Habitec are residents in Ohio. Hence, if you are in the area, now you have a clear idea of the advantages of using these services.
Cons
Habitec Security security system reviews must always provide a balanced assessment. This is why all the aspects of the service and products of Habitec are included in this review. We provide the following list:
You get a one-year warranty. If you acquire a Habitec safety system with a 3-year contract, the warranty covering the Habitec equipment will be for one year;
If you live outside Ohio, there is some waiting time for in-person service. The company is not very big. Hence, you will wait a little time to get a technician at your place. Phone or online support is always readily available, and it is excellent. Moreover, the excellence of the in-person service makes the wait worthwhile;
You have to inquire about Habitec Security pricing on the company's website. Hence, you have to submit a quote inquiry to get information on the monthly fee, installation cost, and equipment price. The company consultants will provide all the requested information immediately. You can schedule a free evaluation to know the best safety solution for your needs. Thus, you can first compare all the technical aspects and later inquire about the cost. If the cost is fine, then you get the solution that you already know is right for your needs.
Hence, even though there are some cons to the services of this company, they are not real limitations. The high-quality of its safety solutions is always guaranteed.
The Bottom Line
Ample experience, which is the result of many years in the safety industry, makes Habitec Security a great option. This is especially true if you reside in Ohio, even better in the Toledo area. In such cases, you can get exceptionally good service. As mentioned, the reputation of this company among home and business owners is well established. Their service is second to none.
Besides the company's outstanding service, a great part of their good reputation is the use of high-quality equipment. Safety is one of those areas in which you should not compromise. People at Habitec Security understand this very well. Hence, they never compromise or take any shortcuts. Their philosophy is using the best equipment.
What's more, Habitec Security also has solutions for healthcare applications. They offer an outstanding monitoring system with alarms to continuously monitor people that may need urgent medical help. The elderly can count on modern technology to have a much better life.
For a more balanced view, you may like reading other Habitec Security home security systems reviews. There are some good Habitec Security reviews on the Internet. However, the current one is one of the most honest and comprehensive ones. Thus, you can trust the content and assessment herein. You will not find any commercially motivated bias.
Overall, if you are near the company's headquarters, these safety services are highly recommendable. This is an excellent company with a solid reputation and vast experience.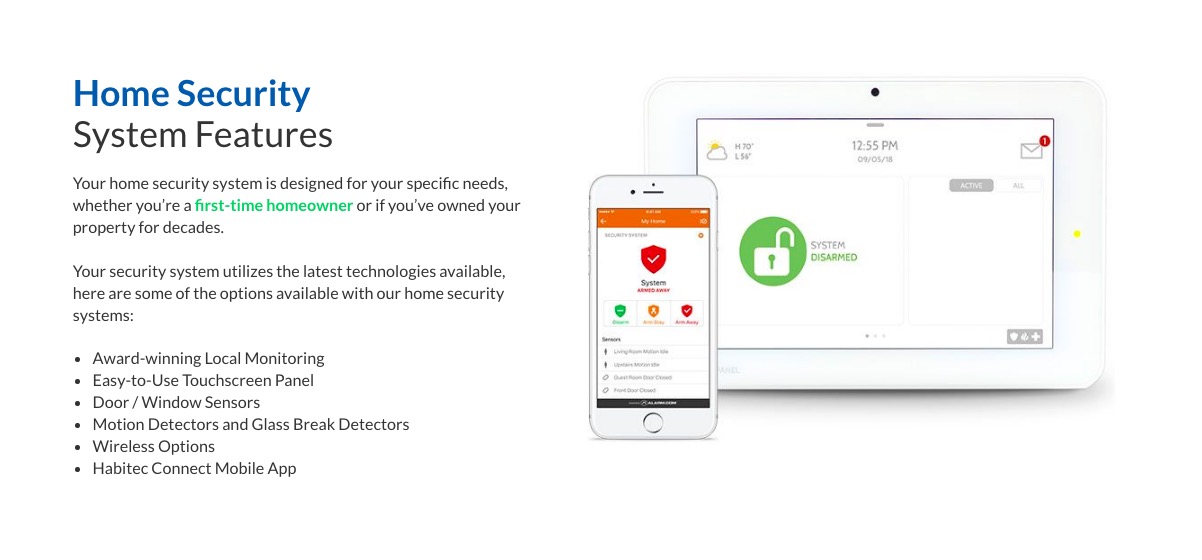 Pricing
You can inquire about the fees of the different safety solutions on the company's website. There is some information about the Medical Alert System Safety Special. This top-quality monitoring system commands a monthly fee of $29.95. This is quite reasonable if you consider that a lockbox with a cost of #34.95 is given for free when you purchase this system. You are also given free equipment use for life.
As for the Habitec Security home security price, this is $99 as the initial cost for a basic system using a landline. If you opt for a 3-year contract, the monthly fee is $35. If you prefer a wireless safety system, then the initial cost will be $199. Likewise, by choosing a 3-year contract, you will pay the monthly fee of $42. Compared to other alternatives in the same area, these prices are highly competitive.
Habitec Security offers smart home automation systems too. If you combine automation and safety services in a single package, the initial installation cost is just $435. The monthly fee will not be so high either. For a 1-year contract, it is just $22 a month.
Equipment/Devices/Features
As mentioned, Habitec Security does not compromise and utilizes top-quality equipment, mainly manufactured by Honeywell. This manufacturer offers highly reliable equipment that can be operated easily. What's more, the equipment is not expensive. This is part of the formula of Habitec Security to offer high-quality solutions at affordable prices.
All the home security system packages offered by Habitec Security include:
A high-end control panel with all the functionalities to interact with sensors and other devices;
Electronic sensors for doors and windows. They detect whether a door (or window) is open;
Electronic motion sensors that detect the presence of people or animals;
A keyfob that ensures authorized access;
A siren that produces a potent sound;
Signs and other indications.
All the above (except for the siren and the signs) are made by Honeywell. Sirens, fire alarms, and smoke sensors are made by First Alert, a company with a good reputation in this niche. An independent Habitec Security alarm system review confirms that this company utilizes the best and most durable equipment. In addition to excellent quality, the prices of these devices are moderate. Users can get the best equipment at the lowest prices. This is a very good deal.
Similarly, different Habitec Security security cameras reviews conclude that high-quality cameras are used in safety solutions. Whether for an indoor camera, outdoor camera, or doorbell camera, state-of-the-art technology is invariably used. All the pulse cameras used for home surveillance are high-definition (HD) for maximum details.
Control (App)
All the safety as well as home automation devices can be controlled remotely. This is done through a state-of-the-art control panel. All that you need to do is to install the corresponding app on your smartphone or computer. Then, you can access the control panel from anywhere, as long as you have an Internet connection. This option allows you to control the lights of your house, safety system, and other devices with a simple click.
An independent Habitec Security home automation review places this service among the most functional and reliable. Home automation offers remote control over HVAC, lights, and other home systems.
Customer Service
This is one of the major selling points of Habitec Security. As mentioned several times before, their customer service is second to none. This is particularly true for those customers that are located in the vicinity of the company's offices. The company offers customer support around the clock, all the days of the year. You can contact any of the company's 3 offices. The relevant phone numbers are provided on its website.
This company will spare no effort to keep all its customers satisfied. Even if you are not close to one of the company's offices, you can still benefit from great customer support. Hence, if customer support is important for you, this company will never let you down.
How To Order
You can place an order using the company's website at https://www.habitecsecurity.com/. It is very easy and simple. You can also call (888) 422-4832 or fill an online form on their website to schedule a free safety evaluation. A consultant from the company will visit you to recommend the best security and/or automation solution for you.
The safety of your home or business must always be a priority. There is nothing better than having the peace of mind, knowing that your family and assets are safe. This is why installing a home security system is an excellent investment from any point of view. There are some very good safety systems offered in the market. They differ in quality, reliability, and price. This review has provided information on some of the best in the market.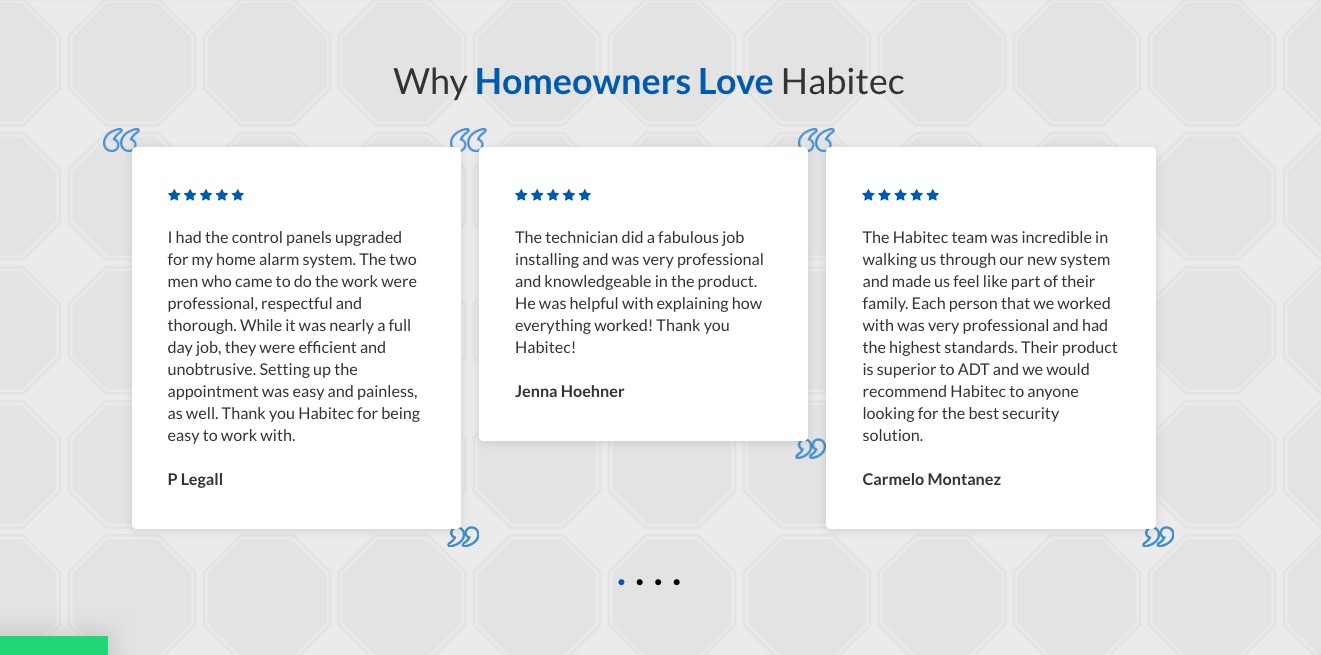 FAQ
The frequently asked questions about this company and its services are listed below:
Does Habitec Security Require The Internet?
Yes, for remote control, an Internet connection is necessary. For basic monitoring, a landline would be sufficient;
How Much Is Habitec Security Per Month?
For a basic security system using a landline, the monthly fee is $35. You get this rate if you contract the service for 3 years. For a wireless security system, the monthly fee is $42;
How To Cancel A Habitec Security Account?
Send a message to [email protected] with your request. From Habitec Security reviews, it is known that it can be done fast and effortlessly.
How Long Has Habitec Security Been In Business?
The company was founded in 1972. Thus, it has been in business for 48 years;
Does Habitec Security Offer Free Installation?
No, but it offers a free evaluation;
Does Habitec Security Work With Alexa?
Yes, it can be integrated with Alexa;
Does Habite Security Work With Google Assistant?
Yes, it can be integrated with Google Home.