Home protection is evolving, and one of the latest useful products of that process is a front door camera security system. It helps you by monitoring who comes to your house, which is a very convenient option, and not only during the quarantine. There are a lot of outlaws that can pretend they're handymen or delivery people. Besides, if an intruder tries to enter through the door, a motion sensor doorbell with video recording is a very useful device.
Potential buyers are usually burdened with questions like "Should I get a wireless doorbell camera?", "What is the best doorbell camera so far?", "What is a good brand?", "Do I need the Internet to track who's in front of my door?".
There's usually not one best smart doorbell since different homes and businesses need different functionality. So, here are 11 doorbell cameras at reasonable prices that will provide protection to your home.
1. Nest Hello: A TOP Front Door Video Camera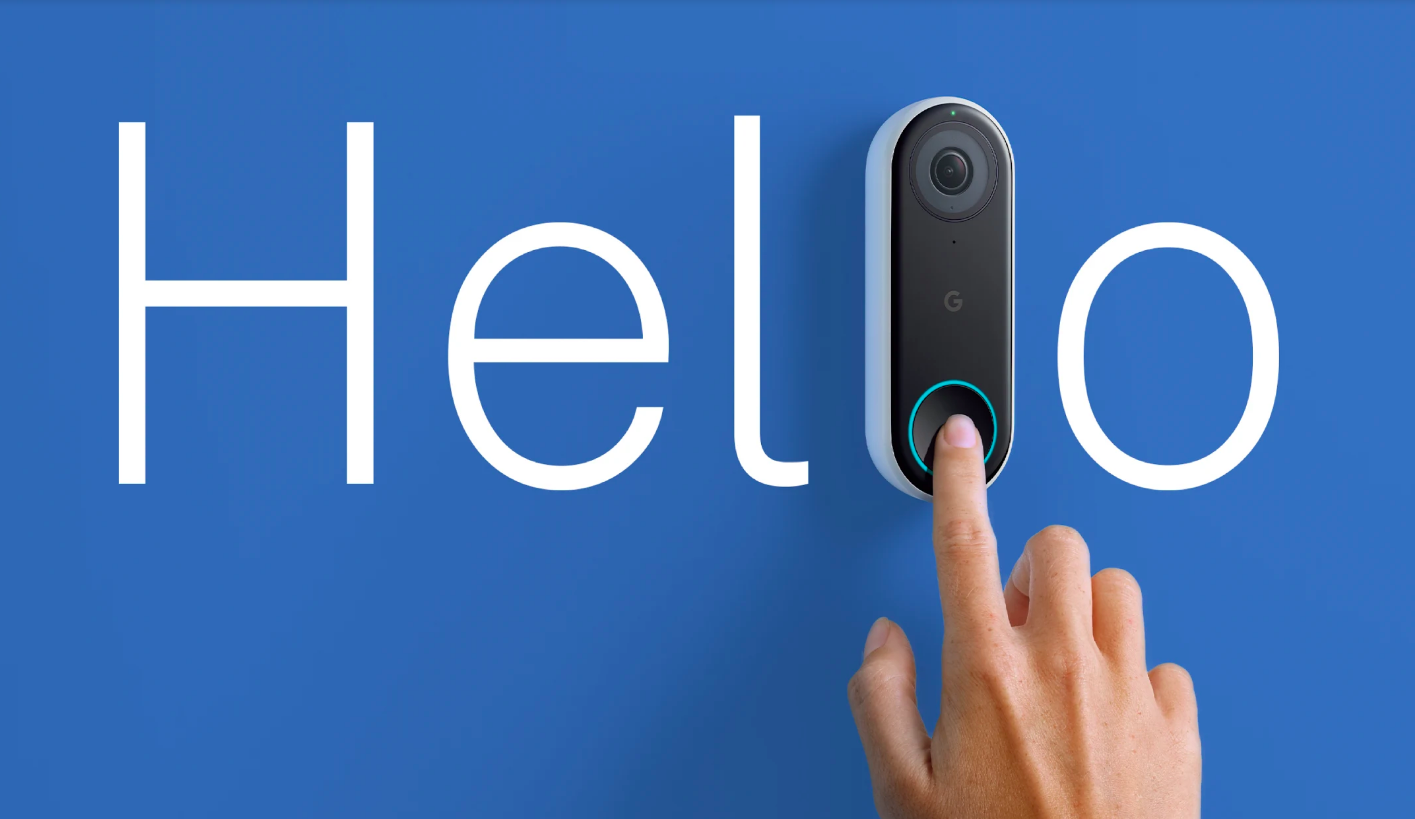 This is a compact smart doorbell camera with all the necessary basics. It offers a 160-degree view angle and great audio qualities with a mic and speaker pair and adequate sound. Keep in mind that this is a wired front door camera, so the installation might be difficult. Nevertheless, it records at all times, so there's no chance you'll miss a guest, wanted, or unwanted, while you're out.
The problem with a lot of security cameras is that they don't provide an image good enough to identify a person. Nest Hello resolves this issue with 1600×1200 video resolution. You can even specify a zone that should trigger a notification so that if someone just passes by, you don't get a false alarm.
The doorbell works with the most common home assistants (Alexa, Google Assistant). The facial recognition function allows your assistant to tell you who's at the door. Only a few digital doorbells have such modern features.
Price
The doorbell itself costs $229. There's also a storage fee that starts with a $6 monthly fee or $60 annually (Nest Aware service required). This provides you with 30 days of footage storage.
Pros
This doorbell cam:
Implements facial recognition;
Has great video resolution and quality;
The company offers a flexible schedule;
Compatible with home assistants.
Cons
This doorbell cam:
Requires wired connection;
Video uploading requires a lot of bandwidth.
2. August Doorbell Cam: Modern Doorbell With Great Compatibility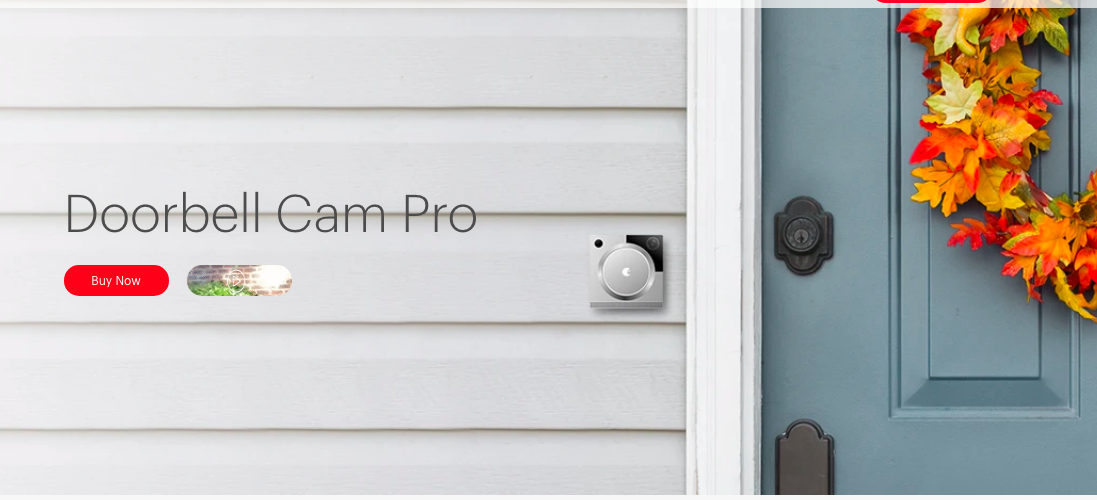 This is a doorbell camera with a 120-degree view angle and a nice quality of both hardware and an app that goes with it. With 1280×960 image resolution, you'll see clearly who's approaching the house. It's most peculiar feature is HindSense – a technology that captured a small video (about 2 seconds) before the motion sensor picks any movement. You're able to see someone approaching in advance and be ready.
Out of all equipment for sale, August Doorbell Cam has the most impressive list of devices and services it's compatible with. If you add smart elements to your home, this cam will be a great addition to the hub.
It's compatible with:
Amazon Alexa;
Google Assistant;
Apple HomeKit;
Honeywell;
Wink;
Xfinity;
Nest;
IFTTT.
This iPhone doorbell camera is wired but can also work from a battery. At night, it switched on a spotlight to see who's approaching.
Price
The camera costs $199 and comes in two color options: dark grey and silver. The fee is $49.99 annually for 30 days of storage.
Pros
This doorbell camera:
Has a great quality of equipment and app;
Works with a wide range of smart home brands;
Has the HindSense tech getting footage before the motion detector goes on;
Works along with a smart lock controlled by a keypad.
Cons
This doorbell camera:
No motion zone specification.
3. Arlo Video Doorbell: A Doorbell Camera At A Buyer-Friendly Price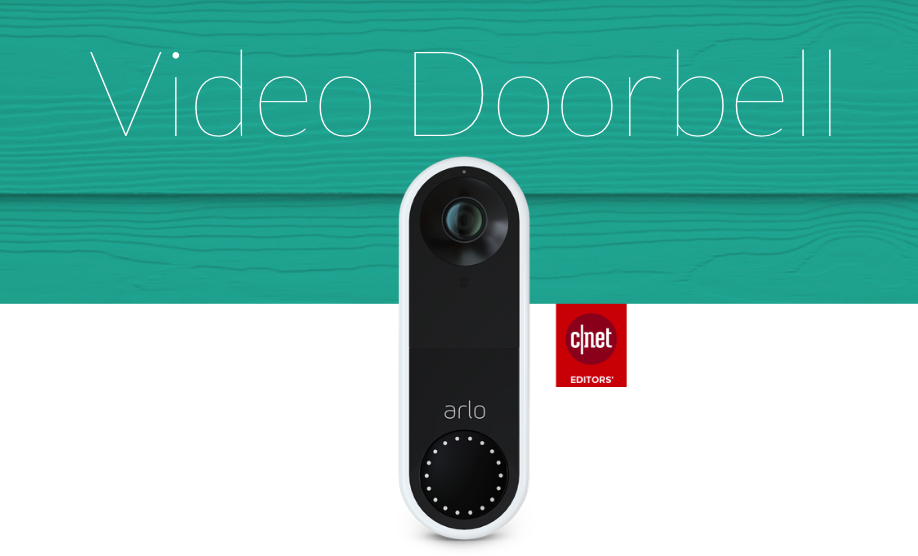 This is a doorbell camera with a 180-degree diagonal view angle that offers a clear image of all the space near your door. With it, every buyer gets a considerable amount of cloud storage (available with subscription). Some devices by the company offer 7-day free storage up to 1 GB, so be sure to check if your plan has this feature.
It's a wired piece of equipment that doesn't work from batteries. But you can connect it to your Amazon or Google home helper. It receives and sends notifications, and you can use your smart display from Amazon Echo Show or Google Nest Hub to see your front door porch live if anything bothers you.
The app Arlo's cameras are operated by impresses with features, only some of them may require some time to be found. But after a couple of hours with it, you'll get even to motion sensitivity.
Price
The camera costs $150, and there's a $3 monthly storage fee for one cam. If buying up to 5 cameras, the monthly price is $10. A lot of features are only available with a subscription, so be sure to check what you get.
Pros
This cam:
Detects and distinguishes people, animals, packages;
Works with an app rich in features;
Supports Alexa and Google Assistant;
HQ video and audio.
Cons
This cam:
Doesn't offer WiFi doorbells;
Needs a subscription to unlock most options.
4. Ring Video Doorbell 3/Ring Video Doorbell 3 Plus: Easy-to-Install Camera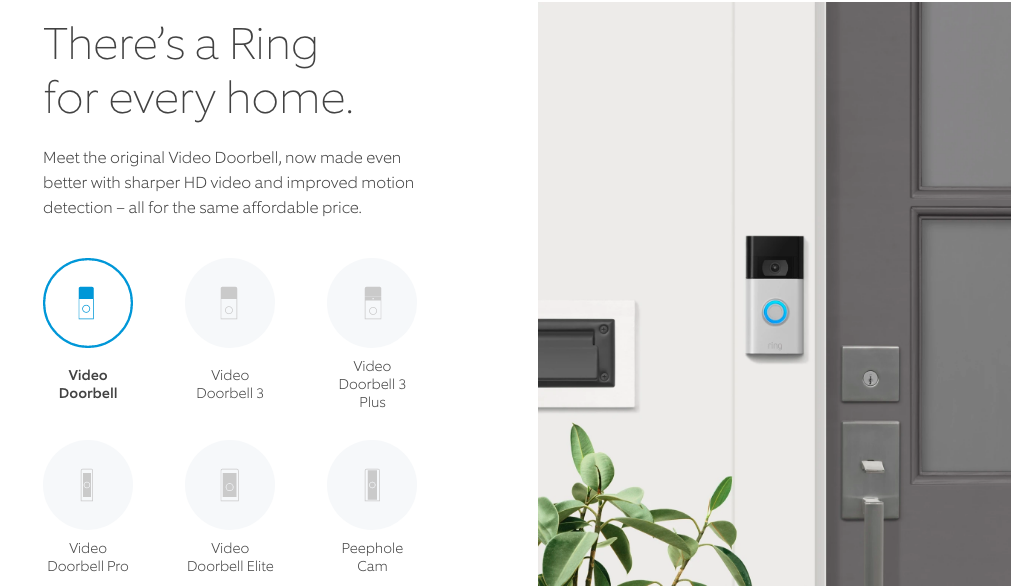 This doorbell camera by Ring offers a 1080p video quality and a reasonable 160-degree view angle. The Plus version also has a special function called Pre-Roll. It provides 4-second video footage prior to the doorbell trigger. The feature distinguishes the two models, so further in the section, they will be referred to as one camera.
This motion detector bell with a cam works with:
Amazon Alexa;
Google Assistant;
IFTTT.
It can be battery-powered or wired, or both, depending on your house and the options you have. You can also make use of 2.4 GHz and 5.0 GHz WiFi. The Ring camera works best if paired with Ring Chime or Ring Chime Pro. The latter can help your WiFi reach the front door.
Price
Ring Video Doorbell 3 costs $199.99, while the Plus version is $229.99. 60 days of video for a year will cost you $30. Ring Chime and Chime Pro's prices are $29 and $49, respectively.
Pros
This device:
Has many connection options;
The Plus version has a special Pre-Roll feature;
Is compatible with smart home devices;
Can be battery-powered;
Has a great video quality.
Cons
This device:
Requires a subscription to unlock a lot of features.
5. Eufy 2K Video Doorbell: A Camera With Its Own Storage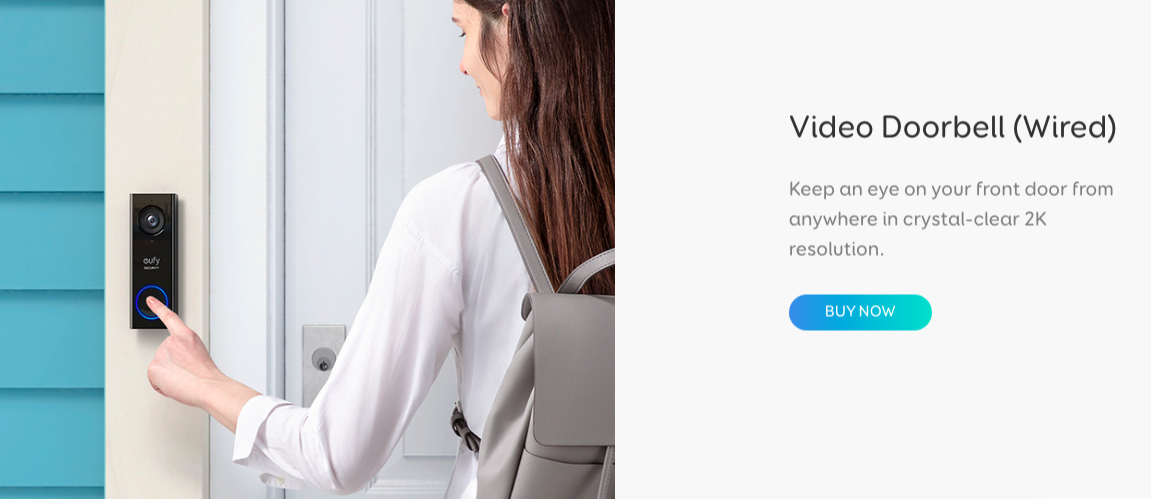 This doorbell camera has a stunning image resolution of 2560 x 1920 and a limited yet reasonable 150-degree view angle. It offers great video quality and all the basics you may need from such a device—a nice deal for its affordable price.
The camera is wired and can't work from WiFi, battery, or be a Bluetooth doorbell. But it's compatible with both Amazon Alexa and Google Assistant, so remote control shouldn't be a problem.
You'll need a subscription to get access to features like cloud storage, but if you don't need much, use a MicroSD slot to have your own built-in video storage. This feature makes Eufy 2K Video Doorbell a nice low-budget deal.
Price
The camera costs $117.99, a yearly storage fee for 30 days of video footage costs $29.99. If you choose to pay on a monthly basis, the fee is $3.99.
Pros
This doorbell camera:
Offers high video quality;
Is compatible with Amazon Alexa and Google Assistant;
Has a chime in the package;
Has limited built-in storage;
User-friendly mobile application.
Cons
This doorbell camera:
Only allows for wired connection;
Requires a subscription for featured like cloud storage.
6. Ring Peephole Cam: Battery-Only Doorbell Camera For Apartment Owners
This doorbell sensor with a camera provides reasonable view angles of 155 degrees (horizontal) and 90 degrees (vertical). In combination with an image resolution of 1920×1080, you get a sufficient overview of your neighborhood and the space near the door.
Uniting efficient features of an indoor camera and pulse cameras, this security doorbell is great for apartment owners. You don't need hardwiring to install it since the doorbell camera works on battery power. One charge usually lasts about a month, but you may need to charge it more often if the doorbell is used a lot.
Peephole Cam is compatible with Alexa, so you can see what's happening near your door live using Echo Show.
Price
This camera's price is $129.99, plus you may need to pay a $30 annual fee for a month (30 days) of video.
Pros
This doorbell camera:
Is simple to install;
Provides sufficient image quality and view angles;
Is compatible with Amazon Alexa;
Is wireless.
Cons
This doorbell camera:
Isn't compatible with Google Assistant.
7. RemoBell S: Affordable Option With Plenty Of Features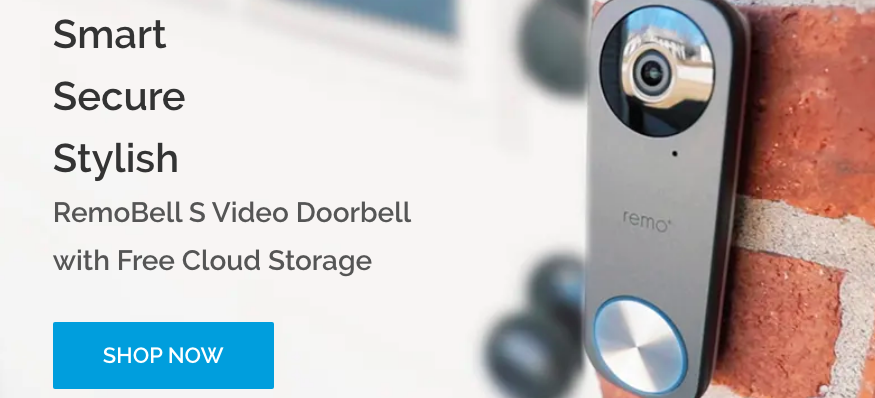 This doorbell camera offers a great 180-degree view angle. You also get night vision due to infrared LEDs. During the day, with a resolution of 1536×1536, you get a crisp video of great quality.
There are motion alert notifications available for the chosen zones of detection. As to the sound, the doorbell camera offers two-way audio with high-quality speakers.
As to smart home services, RemoBell S supports:
Amazon Alexa;
Google Assistant;
IFTTT.
There's a nice bonus of 3 free days of cloud storage. For more, you will need a subscription. The doorbell camera only records video in fisheye mode, which is a pro yet also a con. Such footage allows for more area coverage, but the image itself gets distorted.
Price
The doorbell camera costs $99, plus you can buy a subscription for 30 days of video storage for $3 a month or $30 annually.
Pros
This doorbell camera:
Provides HD video;
Is affordable;
Has high-quality two-way audio;
Allows for motion detection;
Offers limited free cloud storage.
Cons
This doorbell camera:
Can only work wired;
Fisheye video recording.
8. Vivint Doorbell Camera Pro: A Great Addition To Your Vivint Home Security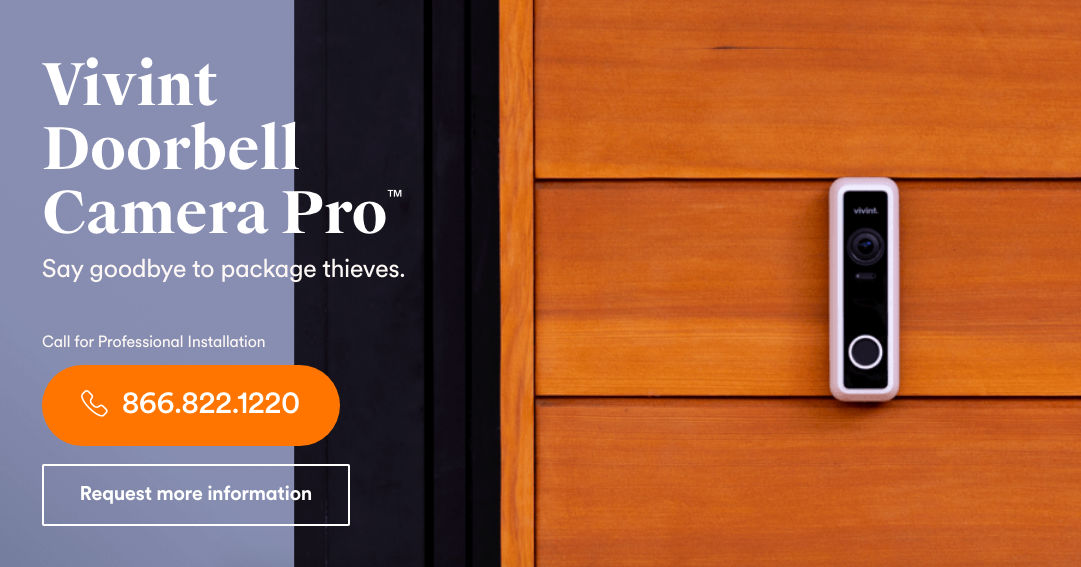 The Vivint monitoring system is pretty famous, and it's not without reason. Their doorbell camera fits all quality standards with 1664 x 1664 image resolution and a great view angle of 180 degrees. 1080p video recording works as a perfect finishing touch.
One of the most prominent features is zoom capabilities. Vivint Doorbell Camera Pro offers optical and digital zoom, 3x, and 10x respectively. Night vision up to 10 ft is also available.
Keep in mind that you need the Vivint home security package to be able to use the camera. This brings lots of advantages, like Smart Sentry tech, that sounds an alarm if anyone tries to steal your package. There's also no need to worry about wiring since it works perfectly as a wireless cam.
Price
The doorbell camera costs $249, and as it's a part of a home security package, monthly fees, installation, and upfront payments by Vivint also apply.
Pros
This doorbell camera:
Offers HD video quality;
Has a wide view angle;
Has two types of zoom for better identification;
Is compatible with other Vivint systems;
Has dual-band WiFi.
Cons
This doorbell camera:
Is expensive;
Requires a home security package by Vivint.
9. Maximus Answer DualCam – Two Cameras At The Price Of One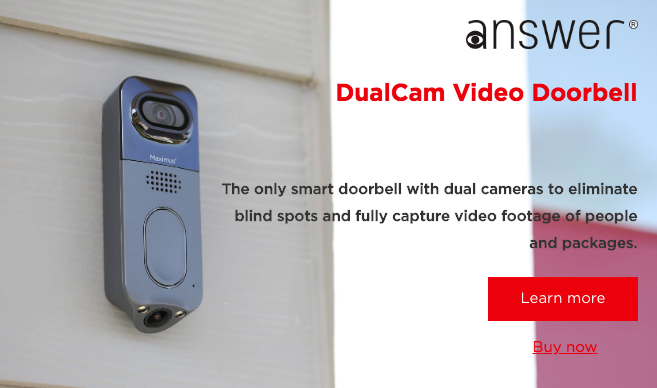 This device has one prominent feature – two cameras are built-in for a better view of people and packages you're getting. The top doorbell camera looks directly out of your door and has an image resolution of 1080p. The bottom one looks down so you can see the packages, or if there's someone trying to steal it, the resolution is 720p. You get high-quality cameras with a 180-degree vertical view angle.
DualCam can't be battery-powered, so wiring is needed for the installation. It isn't compatible with any smart-home devices and home assistants. However, you can control it remotely with the Kuna application.
There might be a short delay between the time you speak, and the visitor hears you through the speaker, and it may be pretty quiet. However, camera-wise, this is a very good deal.
Price
The camera costs $199 plus a $4.99 monthly payment for a week of video storage.
Pros
This doorbell camera:
Offers two cameras for a better overview;
Is easy to install;
Works with the easy-to-use Kuna app.
Cons
This doorbell camera:
The speaker is low in volume;
No smart home device compatibility.
10. SimpliSafe Video Doorbell Pro: Outstanding Video Quality With Or Without A SimpliSafe System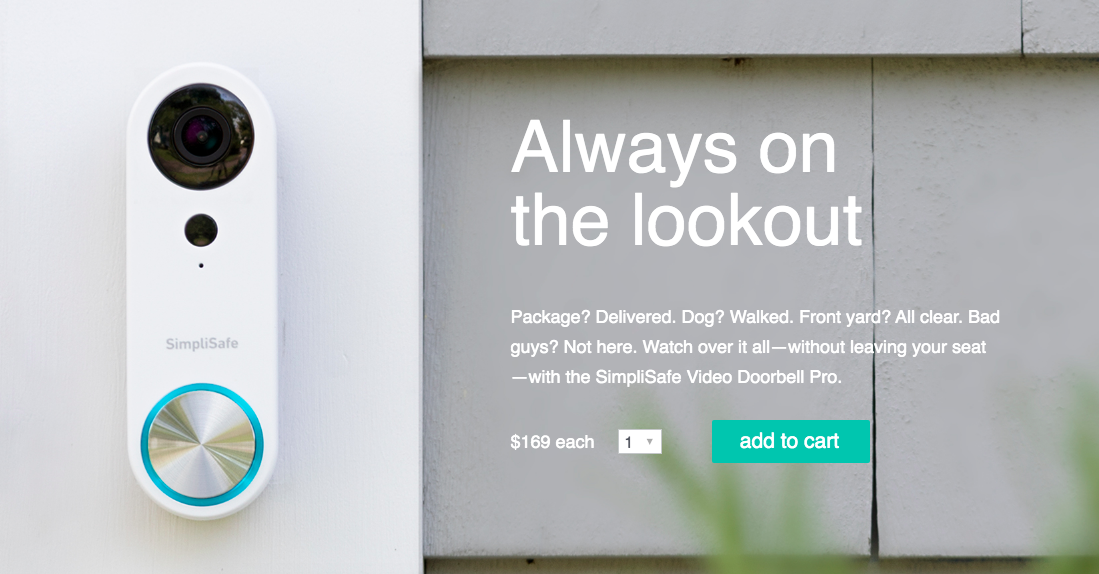 SimpliSafe is another popular home security company, and their doorbell camera is just as good as any part of the set. It shows 1080p HDR footage with a view angle of 162 degrees. You also get an infrared motion sensor, black-and-white clear night view for 30 ft, and a combination of mics and speakers for two-way audio.
SimpliSafe is an easygoing company in terms of customer cooperation. It doesn't require any contracts for a security system, and you can use its products altogether or as stand-alone devices. So, their Video Doorbell Pro can be used without any connection to the SimpliSafe home protection system.
Keep in mind that to access recorded video in the storage, you'll need a subscription. The remote control is available via an app, but this doorbell camera doesn't support any outside, smart home devices from Amazon, Google, Apple, etc.
Price
This SimpliSafe camera costs $169. If you subscribe to professional monitoring by the company, monthly payments and a potential upfront cost will be added to the price.
Pros
This doorbell camera:
Has a great video quality;
Doesn't require professional installation;
Offers up to 30 ft of night view.
Compatible with all other SimpliSafe home protection systems.
Cons
This doorbell camera:
Requires subscription for footage access;
No outside home assistants support.
11. Ring Video Doorbell: An Inexpensive Doorbell Camera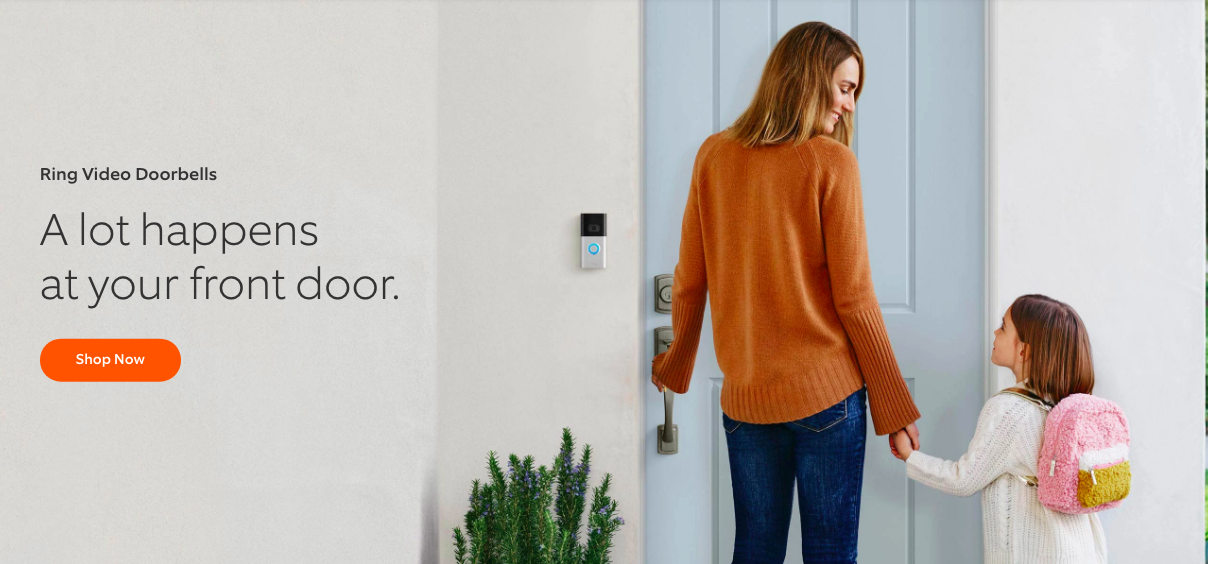 Ring has a range of products for any budget. This camera has a nice 160-degree view angle and 720p resolution. It's not much compared to other cameras on the list, but it's a great deal for the price. Plus, the functionality is more than basic, which adds to the value of this option.
This doorbell camera is compatible with a wide range of devices by:
Amazon;
Google;
IFTTT;
Nest.
The camera can be battery-powered and wired. This is a great option for the houses that don't have power yet but need security asap. You can customize motion zones to know what's going on in the neighborhood at all times.
Ring also offers flexible and reasonable storage plans, so it won't stain the "budget-friendly" label of this video doorbell.
Price
Ring Video Doorbell Camera costs only $99.99. The storage fee is the same – $30 annually for 60 days of video storage.
Pros
This doorbell camera:
Is budget-friendly;
Works with a lot of devices;
Can be battery-powered;
Has motion zone customization.
Cons
This doorbell camera:
Relatively low video resolution.
Doorbell Camera As An Essential Addition To Your Smart Home
Almost every respected wireless security system has a wireless front door camera and monitor as a part of their equipment options. You can get those if signing a contract with a company. However, there are a plethora of high-quality doorbell camera systems that don't require monitoring or additional alarms. Those are just for you to see who or what's at the door.
A lot of people are using delivery services during the quarantine. To be sure it's a delivery person and not a scammer or someone you don't want to see, choose the best doorbell camera for your house.