| | | |
| --- | --- | --- |
| | ADT | Brinks Security Systems |
| Upfront Cost | $99 | $299-$499 |
| Monthly Monitoring Cost | $36 | $29 |
| Equipment/Devices/Features | Battery backup, Alexa, live video streaming | Nest Secure, smoke alarm, thermostat |
| Easy to Use/App | + | + |
| MoneyBack Guarantee | 6 months | 30 days |
| Installation | Pro | DIY |
| Customer Service | A+ based on BBB | A+ based on BBB |
| Overall Score | 9.5/10 | 8/10 |
ADT vs. Brinks Overview
Choosing the best security system is not as easy, as it may seem at first. Some people blindly go for the leading providers, while others spend time comparing them with less popular but more practical solutions. There are also many people who live with their parents who need care, children who should be protected, and pets that are the best friends of the family. Thus, they all seek a chance to find the ultimate security and peace of mind that is ongoing 24/7. Today, there is an array of the best home security systems and providers, including ADT and Brinks, that have a good reputation and may promise a lot for one's security and protection. Let's compare Brinks with ADT tantalizing key metrics and understand their pricing policies, which may attract potential customers.
ADT is more than a popular provider, as it is extremely wide-spread across the United States. You may check it by having a walk across your neighborhood to count the number of ADT yard signs. This company is a long-standing party in the industry with over 145 years of serving people's security. It is staffed by 17K professionally-trained experts, and their centers are located in every part of the country, ensuring the clients live protected. Pillars they boast are answers within seconds, same-day services, 6-month money-back guarantee as well as advanced theft protection. This provider works with contracts, and you should be ready for the commitment of 3 years.
Key Perks Of ADT:
Anti-theft guarantees;
Effective money-back guarantee with a trial;
Monitoring certificate;
Moving clients support;
Professional monitoring;
Home automation capabilities.
Let's move to Brinks security systems. It is a cutting-edge combination of details from many vendors. The monitoring and customer support are fully on their shoulders, while devices come mainly from Nest and Alarm.com. Like ADT, Brinks may boast a long-standing position in the industry, as it was introduced to the public in 1859. As of now, Brinks reports serving over 1M of clients across the USA. Their attractive pillars that hook potential clients on are prompt answers, effective warranty of 2 years, 30-days trial as well as award-winning customer support. There is a 3-year commitment as well.
Key Perks Of Brinks:
Smart integrations, including Google Assistant, Amazon Alexa;
DIY installation;
Cellular backup;
Pro monitoring;
Affordability in plans.
Let's compare security companies in detail.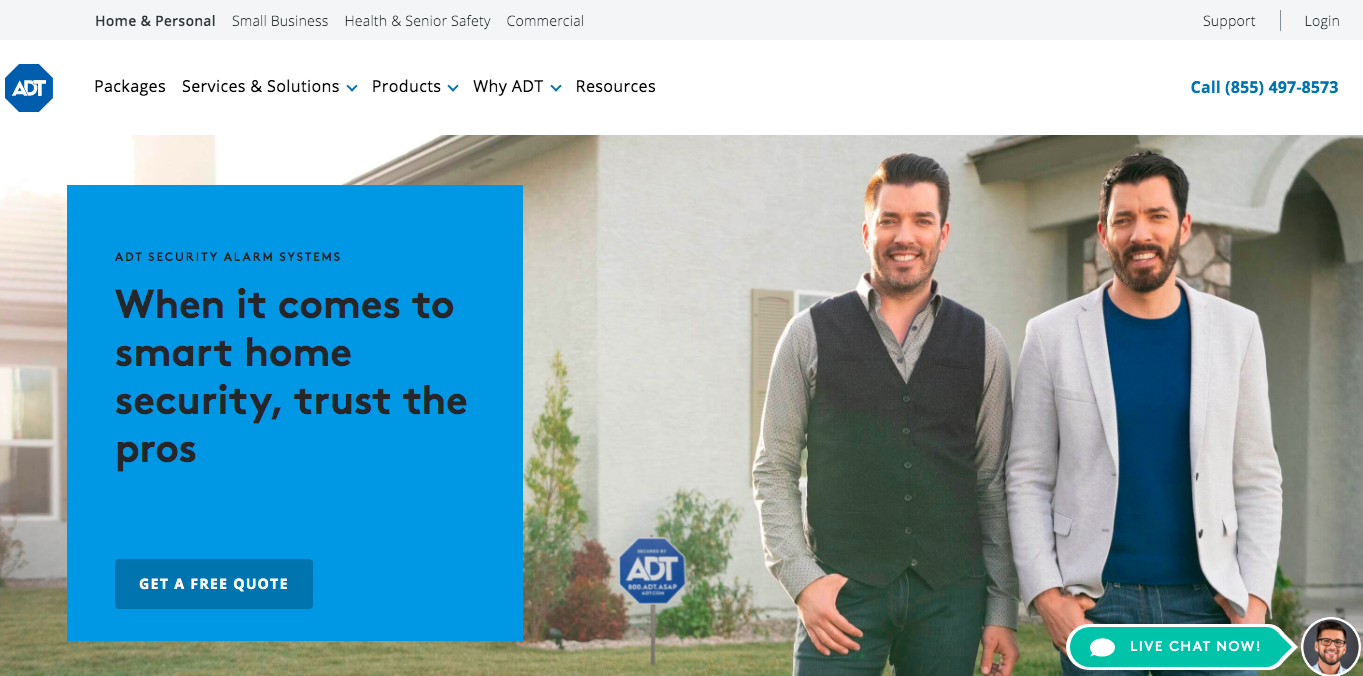 ADT And Brinks Overview Of Similarities
As was hinted above, the major similarity of both best-rated home security systems contracts. Unlike other providers that skipped this option, these two giants continue offering their security systems only upon agreeing to a 3-year commitment. ADT with Brinks have money-back guarantees and trials and offer affordable plans. Reviewing customer feedback on their services, one may find many positive and valid comments.
Both ADT and Brinks offer professional monitoring, wireless systems, and all the standard features for the utmost security of the house. Finally, ADT and Brinks are good at smart integrations and prompt answers when it comes to the tech support team's help.
ADT vs. Brinks Differences
ADT provider is higher in quality and advanced technologies related to their equipment and devices. The prices correspond to the quality as well. ADT offers pro installation, while Brinks works with DIY security systems only. Beyond that, ADT is superior in money-back guarantee, which is eligible during the first 6 months after the purchase, while Brinks may guarantee clients a 1-month window for such refund operations.
Equipment of ADT with Brinks is decent, although Brinks has it from other vendors, including Nest and Alarm.com, while ADT designates all goods for their services on their own.
Finally, home security cost comparison. ADT, as well as Brinks, offers affordable plans for monitoring, although they vary in prices, precisely – in $7 only.
As per their value, Brinks vs. ADT security both are extremely good for surveilling and protecting the property; thus, there is no big difference in their primary role. They will guard your peace and, definitely, every member of your family.
ADT Security Systems
Let's review ADT's pros and cons. They may help you decide on the best security system afterward. There is a recommendation to base your search more on the pros, as cons may be easily covered with a myriad of bonuses that the providers offer their clients to stay loyal. Let's go.
Pros:
Pro monitoring;
Smart home compatibility;
Same-day service;
Many monitoring centers;
Excellent reputation.
Cons:
ADT monthly cost starts at $36.99.
Brinks Security Systems
Brinks systems are similar to ADT's. To make your search easier, review its pros and cons as well.
Pros:
Many promotions;
Effective warranty;
0% ARP financing options;
Pro monitoring;
Add-on devices;
Prompt answers.
Cons:
Contracts;
Window sensors available with upgraded packages.
Brinks monthly cost starts at $29.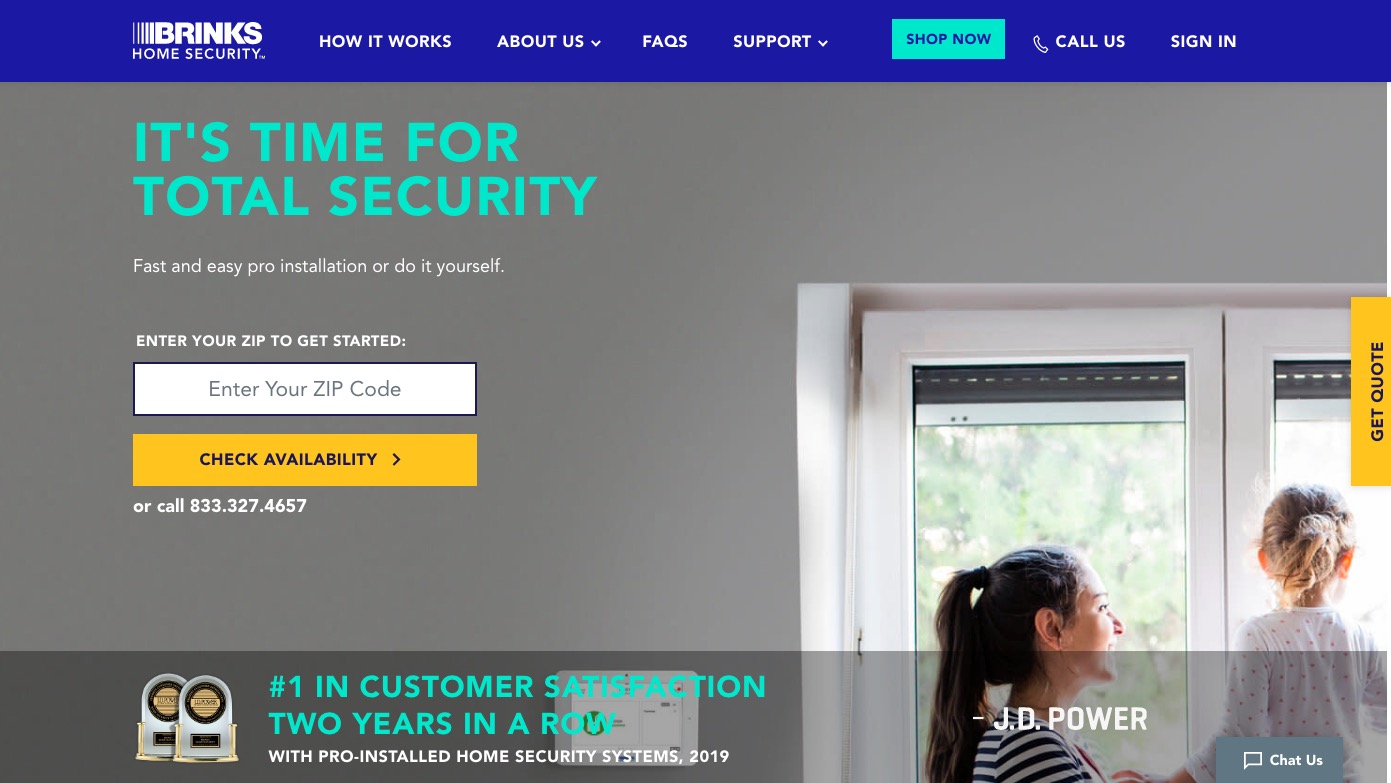 ADT vs. Brinks Comparison Of Features
Let's move to a home security comparison chart of their features. Upon subscribing for pro monitoring with Brinks, users are granted access to a designated mobile app, which helps to control the home security at a few clicks of the button, including arming/disarming the system, accessing settings, and watching cameras. If you are an existing user of Nest, you may use both Brinks and Nest apps.
ASAPer is a convenient feature from Brinks whose primary function is to connect you to the respective authorities, and the actual monitoring center in case of any danger. The Brinks system won't miss any intruders. No worries, receive alerts to the ASAPer, and confirm the potential threat.
One of the most remarkable features of Brinks-Nest users is the Remind Me Alerts. They receive alerts and notifications on arming/disarming the system, etc.
Speaking of Brinks' cameras is a pleasure, as they offer qualitative images. There are indoor, outdoor cameras, video doorbell cameras with 1080p. You can record the footage or stream it through your smartphone, although this Brinks option is available to clients who committed to buying the upgraded plans only.
Let's move to ADT's features. This provider does not lag behind when it comes to features. For example, their Anti-Theft guarantee: in case of any burglary event within your property, while the ADT security system is on, the provider will pay you $500. It really sounds nice, because you will get protection and reimbursement if needed.
The provider gives a choice of connections, as there are both cellular and landline monitoring, which is extremely convenient for those who live in rural areas.
ADT's motions sensors are fully-friendly with your pets. The sensors may differentiate the movements of humans from pets, and it helps prevent false alarms, although your pet should not be over 50 pounds in weight.
Environmental features of ADT, including flood, leak, fire/smoke detectors come in handy every homeowner. The company ensured to provide its clients with them, and those clients report their relevance, especially when they are away from home and don't have to worry about potential flood or fire.
Cameras are standard for both indoor and outdoor surveillance. The quality of images is nice, and you may stream live video to your smartphone.
Finally, the home automation feature helps existing users cut the bills on electricity by controlling the lights, temperature, and other things. It is so-called energy management, and within a few months, you may check how much money is amassed with no problem.
When choosing these providers or any other the best self-monitored home security system, get to know about the bonuses of monitoring precisely.
ADT vs. Brinks Lawsuit Of Contracts
First off, ADT comes with a 3-year contract. There is some customer feedback reporting that prolongation of the subscription is common, although it differs within customers. Before subscribing to their plans, ensure you try it out during the trial and are firm in your decision whether it is worth it or not. Brinks also has a 3-year contract.
Contact the providers, and get to know about ADT with Brinks trials from the sales representatives. It may help you avoid expenses.
Brinks vs. ADT Review Of Installation
ADT offers professional installation performed by skilled technicians who know how to set up equipment qualitatively. Another bonus is that ADT gives a choice between landline and cellular. With a landline, you are deprived of any negative outcomes in the form of drilling walls and other invasive installation factors.
Unlike ADT, Brink offers DIY installation for their security systems. If you are not tech-savvy, there won't be any issues with Brink as well. 15-30 minutes and your Brinks security system may run perfectly. If you are still not aware of installation details, you may request professional help from Brinks experts but at additional cost.
ADT Or Brinks For Emergency Connections
ADT with Brinks is good for emergency connections, although ADT could be a little bit cheaper when it comes to connectivity to the respective authorities. ADT and Brinks alarm systems for home have a mobile app from where users may contact the monitoring center, and alert about the potential threat, intruders, burglary, etc. Beyond that, ADT offers a panic button, which is extremely helpful for the senior people or children who know how to deal with it. ADT provider is also very precise when it comes to hacking activity, the monitoring center promptly catches such intentions, and/or prevent them.
Brinks works with Wi-Fi connectivity, which means you won't wait for ages to receive fast answers or help. Brinks cellular devices are more reliable in emergency situations.
All in all, ADT with Brinks is decent for these key metrics. Otherwise, potential clients may choose additional perks or features to ensure the highest preventative measures from intruders or dangers, including environmental situations like a flood, fire, etc.
Brinks vs. ADT – What Is Worth Your Security And Protection?
Now, you are done with the price comparison, features, installations, and customer services of ADT with Brinks. Logically, the most obvious choice is to rely on time-proven ADT providers; still, Brinks is long-standing as well. Try to speak to your neighbors who use these systems, and check their feedback on overall usability and history of any bonuses from the providers. In general, it is hard to compare ADT and Brinks much, as both of them offer to monitor only with contracts, and both ADT with Brinks have trials and warranty alongside decent and qualitative equipment. If you stick to a cheaper security system, go for Brinks, if you are into high respect in the industry, it is about ADT. One for the road, with ADT/Brinks, you will be protected, and you won't be exposed to threats when living either in a small apartment or a large property.